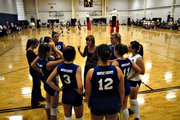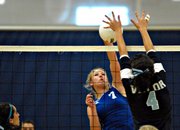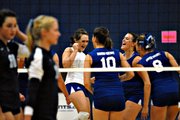 Tournament results
Moffat County High School girls varsity volleyball results
Team, 1, 2, 3, 4, Final
Moffat County, 25, 25, 25, 0, 3 - Denver South, 14, 17, 13, 0, 0
Moffat County, 25, 25, 25, 0, 3 - The Academy, 12, 16, 5, 0, 0
Moffat County, 25, 24, 25, 25, 3 - Legend, 13, 26, 21, 15, 1
Moffat County, 21, 21, 25, 11, 1 - Valor Christian, 25, 25, 18, 25, 3
In its first action of the season, the Moffat County High School girls varsity volleyball had a strong showing at the Regis Jesuit Jam volleyball tournament in Lakewood on Friday and Saturday.
The team played in four matches, winning three. Their lone loss came at the hands of the Valor Christian High School Eagles, who dropped the Bulldogs in four sets.
On Friday, Moffat County easily dispatched Denver south in sets of 25-14, 25-17 and 25-13 in the first match of the season.
Moffat County also was able to top The Academy on Friday with a line of 25-12, 25-16 and 25-5.
Legend High School was the first school to stand in the Bulldogs' way of a perfect tournament, winning one set, but Moffat County won the match, 3-1.
In the last match of the weekend, Moffat County fell to Valor Christian with sets of 21-25, 21-25, 25-18 and 11-25.
On Thursday, Moffat County will travel to Grand Junction High School for a match against the Tigers.