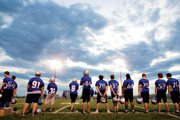 Bulldogs at a glance
Moffat County High School
2008 record: 4-6
Head coach: Kip Hafey
Class: 3A, Western Slope League
Returning starters: 19 (10 on offense, nine on defense)
Offensive starters:
LT Halen Raymond
LG Nick Bulla
C Jeremiah Gordon
RG Travis Nolan
RT Cody Adams
TE Brady Connor
WR Scott Mann
FB Pablo Salcido
HB Braeden Sullivan
WB Jasen Kettle
QB Matt Linsacum
Defensive starters:
NG Travis Nolan
LT Casey Martin
RT Garrett Spears
LB Nate Tomlin
LB Todd Stewart
LB CJ Walt
LB Brian Ivy
LB Jordan Wilson
S Matt Linsacum
CB Scott Mann
CB Miguel Molina
Coach's keys to victory:
• Time of possession. Hafey said the Bulldogs need to keep Berthoud's offense off the field while moving the ball downfield.
• Turnovers. The Bulldogs must limit their own while taking the ball away from the Spartans.
• Prevent big plays. The Bulldogs can't allow Berthoud to stretch its legs with big plays down the field.
Spartans at a glance
Berthoud High School
2008 record: 9-3
Head Coach: Dan McGinn
Class: 3A, Tri-Valley Conference
Returning starters: nine (eight on defense, one on offense)
Summary: Last season, Berthoud High School made it to the quarterfinals in the 3A state playoffs. They were 3A state champions in 2007.
The offense returns only one starter, but the defense remains largely unchanged with eight Spartans returning from last year's team.
Quarterback Jordan Major, who paced the Spartans against the Bulldogs last year, graduated.
If you go
What: Moffat County High School varsity football vs. Berthoud High School
When: 7 p.m. today
Where: Moffat County High School, 900 Finley Lane
Cost: $5
For more information, call MCHS at 824-7036
Craig — Kip Hafey knows how explosive the Berthoud High School Spartans can be.
Last year, in the opening game of the season, Berthoud jumped to an early lead in the first quarter, scoring on three of its first four plays.
When Berthoud comes to Moffat County High School at 7 p.m. today, the Bulldogs will try to contain the Spartans' potent offense.
Hafey, the Moffat County High School boys varsity football head coach, remembers last year's 40-7 road defeat but welcomes the challenge this year.
"We're excited to see where we're at against some of the best competition in Colorado," Hafey said. "Berthoud was seeded fifth or sixth in one preseason poll, and we're a dark horse. But, we're going to go after people. I'm excited to see what we can do against that caliber of competition."
Regardless of rankings, Hafey said his Bulldogs won't bow over for Berthoud.
"We don't care what the press or the rankings say," he said. "We're going out to do our best and do everything we can to try to win this ballgame."
When Berthoud has the ball
Matching Berthoud's thunderous offense will be a task, defensive coordinator Lance Scranton said, but the Bulldogs should be up to.
"We have to make our reads," he said. "We have to make our progressions and relentless pursuit."
Moffat County runs a 3-5 defense, with linebackers constantly in motion to give the offense different looks.
With an offense filled with speedy runners, field position will be critical.
"They are a fast team," Scranton said. "We can't match them for speed, so we need to be in the right spots."
The Spartans utilize a spread option offense, and a good one at that, Scranton said.
"We've been working on assignments all week," he said. "Where we put people depends on what they are running."
Because Berthoud has a solid offensive unit, the pressure won't be on the three defensive linemen, the five linebackers or the three defensive backs. It will be on the defense as a whole, Scranton said.
"It will take a total team effort," he said. "Berthoud is good in a lot of places, so all 11 men on the field will have to work together."
Scranton said Moffat County's best way to shut down Berthoud's offense is to not give it a chance.
"The best defense is a good offense," he said. "The way we will come out on top is if we can limit the big plays, and keep our offense on the field."
When Moffat County has the ball
Berthoud runs two defenses - a 4-4 and a 5-2 - so finding plays that work in the wing-T offense that allow the Bulldogs to move downfield is essential, Hafey said.
"We will do whatever we need to do to move the ball down the field," he said. "If that means running the ball the entire game, then that's what we'll do. If we need to get it in the air 30 times, then we'll throw the ball 30 times.
"We're going to figure out what's working and go with that."
Getting fullback Pablo Salcido, halfback Braeden Sullivan and wing back Jasen Kettle established in the running game early will be crucial to Moffat County's success, Hafey said.
"Possession is big for us on offense," he said. "We have to be able to move the ball on the ground to set up everything else."
Keeping the football and wearing out the clock and Berthoud's defense will allow Moffat County more chances to score.
"We can't give the ball over to a team like that," Hafey said. "Our defense will have to create turnovers to give us more opportunities to score."