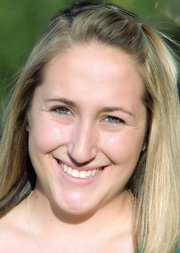 Craig — The Moffat County School Board was prepared to cancel its November election for three open, uncontested seats, until 19-year-old Lisa Richardson put her name forward as a write-in candidate.
Richardson will campaign for the District 6 position, currently held by her father-in-law and board president Rod Durham, who is term-limited.
Until Sept. 1, Christine Balderston was the only person to come forward and complete a petition to be put on the ballot in that district.
With incumbents Karen Stillion and Sandie Johns, of districts 2 and 4, respectively, running uncontested, the election was going to be canceled if no one else came forward.
But, Richardson, who recently married Durham's stepson, hadn't realized the deadline to put her name down was Sept. 1.
She rushed back Tuesday from work in Steamboat Springs to fill out the paperwork, which brought the School Board election back to life.
"I've always heard people say we need to get younger people involved in more things throughout the community," Richardson said. "Then, our generation will be more respected."
Richardson, who grew up in Steamboat Springs and has lived in Craig for a year, said she hopes her campaign will encourage young people to be engaged and vote in all elections, not just presidential contests.
Richardson's last-minute effort to be a part of the election came as a surprise to school officials.
Vicki Duncan, Moffat County School District administrative assistant, said she hadn't expected anyone to come forward as a write-in candidate.
"It's never happened in the 11 years I've been here," Duncan said. "I had to call the clerk's office to figure out exactly what to do."
Richardson's name will not appear on the ballot in November. A voter would have to print her name on the "write-in" line to cast a vote for her.
All three seats will be on the ballot, though only one write-in candidate came forward.
Lila Herod, Moffat County chief clerk and recorder, said it's not uncommon to have write-in candidates in local elections.
"When you're a write-in, you have to do an awful lot of work to get your votes," she said. "But it's not unheard of. We had a write-in candidate for sheriff a few years back and he ran a phenomenal campaign. But, he still came up short."
Herod said she couldn't think of a time when there was a write-in candidate for a School Board election.
However, a state provision allows anyone to come forward as a candidate up until the 64th day before any election.
Richardson said she knows it will be difficult to get her name out to the public.
"I kind of want it to be a word-of-mouth sort of thing," she said. "We know a lot of people in town and through our church. And I have some ideas for advertising and things like that. But I do know I'll have to do a lot."