Get involved
An account has been set up for donations for a William E. Adams memorial at Yampa Valley Bank, 435 Mack Lane, in the name of VFW Post 4265.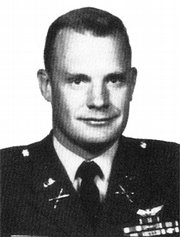 Craig — The wheels still are turning, however slowly, in the process to erect a memorial for local war veterans and Medal of Honor Recipient Maj. William E. Adams.
Vietnam veteran Larry Neu and Veterans of Foreign Wars Post 4265 commander Mark Wick said they have not forgotten about the memorial, which was proposed in May.
Adams, an Army helicopter pilot, was shot down in May 1971 in Vietnam as he attempted to evacuate wounded soldiers from a hostile area.
Neu and other veterans hoped to name the new Sandrock Elementary School after Adams, however when that fell through, they began to form plans for a memorial that includes a granite wall honoring fallen soldiers from the area, a bronze statue of Adams and a Huey helicopter like the one he flew in Vietnam.
Recently, Neu and Wick submitted a request to TACOM, a U.S. Army department in charge of equipment acquisitions, for the helicopter.
Neu said he is confident that request will be honored.
"I'm sure we're going to get one," he said. "I'm real positive about it. I've been talking with artists about bids for a bronze likeness. I've got a list of government grants to apply for."
In a recent visit to Pueblo, which has a plaza dedicated to the town's four Medal of Honor recipients, Neu researched memorial ideas and government grants that could potentially help fund a Craig memorial.
However, the entire project could cost more than $50,000, and the process to secure grants is taking longer than expected, Wick said.
Still, the VFW wants the community to know that the project has not been pushed to the back burner.
"We were expecting to announce it one Memorial Day, then have it done by the next one," Wick said. "But, we're finding out wheels don't turn as fast as we like. We've got all the momentum, and we have not forgotten. We will not let it go. A memorial is one of our prime missions at the VFW."
With an account set up for donations at Yampa Valley Bank, under the name of VFW Post 4265, Wick said they already have raised more than $10,000.
Local businesses also have offered property for the memorial, but Wick said the location of the memorial has not been finalized.
"We can't go on to the next step until we finish the last three," Wick said.
Neu said a memorial for Adams and other veterans is long past due.
"This is a very important project to me," Neu said. "I'm not going to give up until I see this thing completed. It's important to do what's right. We, the VFW, the American Legion and the community want to recognize everyone from this area."
Wick said the memorial might take longer than expected to complete, but that it should be done right.
"This is not just going to be a statue in the park," he said. "We want to recognize all the veterans who served. Whether it was the Civil War, the War of 1812, you name a war, and we'll have a name to put under it. They put it all on the line and the least we can do is acknowledge it."