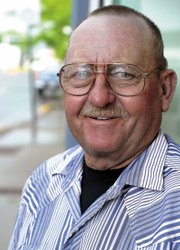 Craig — The Suicide Prevention campaign of the Veterans Affairs is expanding its outreach program by piloting an online, one-to-one "chat service" for veterans who prefer reaching out for assistance using the Internet.
Called "Veterans Chat," the new service enables veterans, their families and friends to go online, where they can anonymously chat with a trained VA counselor.
If a "chatter" is determined to be in a crisis, the counselor can take immediate steps to transfer the person to the VA Suicide Prevention Hotline, where further counseling and referral services are provided and crisis intervention steps can be taken.
This online feature is intended to reach out to all veterans who may or may not be enrolled in the VA health care system.
This program is meant to provide veterans with an anonymous way to access VA's suicide prevention services.
Honor flight veterans gathering Thursday
On Thursday, Craig Daily Press staffers will be here to do an article about the four World War II veterans who went on the honor flight to Washington, D.C.
The veterans will be here at 10 a.m., so if anyone would like to come into the Workforce Center, 480 Barclay St., and visit with them, you are welcome to do so.
Historical veteran/national dates
• Sept.1, 1864 - Atlanta falls to General Sherman
• Sept 4, 1886 - Apache Chief Geronimo surrenders to General Nelson Miles
• Sept 5, 1972 - Israeli athletes taken hostage by Palestinian terrorists at Munich Olympics
Craig Telehealth Clinic reminder
The Craig Community Telehealth Clinic offers U.S. veterans state-of-the-art technology as well as onsite nursing support and remote practitioner availability. The goal is to provide an extensive array of health care services to veterans in a setting that is both accessible and professional. To appropriately plan and coordinate your visit, access to the clinic is by appointment only. The clinic cannot handle emergency needs. Flu shot walk-ins still are ongoing for veterans enrolled in the VAMC Healthcare system. Questions? Call 824-6721.
Tele-psych services now available
Veterans can now get tele-pysch services at the Craig VA Telehealth clinic. All they need to do is call 970-263-2824 to set up a follow-up appointment for their mental health visit to be done there. If there are any questions, contact Jayne Scribner at VAMC Grand Junction via phone or e-mail. Her e-mail address is Jayne.Scribner@va.gov
For information on these programs and/or other veterans' benefits, call or stop in the Moffat County VSO office at 480 Barclay St. (west of the Bank of Colorado parking lot). Call 824-3246 or use the fax 824-7108. Our e-mail address is veterans@moffatcounty.net. The office is open from 8:30 a.m. to 12:30 p.m., Mondays through Thursdays. Other times can be arranged by appointment only. Bring a copy of your separation papers (DD-214) for application for VA programs and for filing at our office.