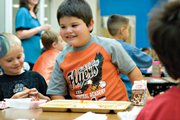 Craig — Amelia Seim, 5, was comfortably settled into her new kindergarten classroom at Sunset Elementary School. As she sounded out words in a book, she looked to her father, Hunter, with pride.
"You can tell she's a little nervous, but excited," Amelia's mother, Sharon Seim, said.
Amelia was quiet at first, but after a few minutes she could find her own cubby with ease and even admired a few plastic bugs under a microscope with one of her new classmates.
"With preschool behind her, she's ready," Hunter said. "She already doesn't want to leave."
The Seims were participating Monday in a family connection day, meant to ease students into the transition to full-day kindergarten.
Small groups of new kindergarteners and their parents were invited to their classroom to fill their cubbies, participate in a few activities and get accustomed to the classroom.
Sara Linsacum, who will be Amelia's teacher this year, said the family connection day was crucial to allowing students to get oriented and have a smooth first day.
"They just don't stop smiling for that first week," Linsacum said.
On Tuesday, the first full day of school for kindergartners, 40 of those smiling faces quietly munched away in the Ridgeview Elementary School cafeteria.
The students seemed quiet and well-behaved, a far cry from the chaos that some teachers expected on the first day of the new full-day kindergarten program.
Up until Tuesday, kindergartners would end their day at 11:15 a.m.
Now, when they finish lunch at 11:50 a.m., they are only halfway through their day.
"It's a lot better than we expected," kindergarten teacher Kara Schrimsher said as she kept a watchful eye on her class.
Principal Julie Baker also stood watch in the lunchroom, preparing for the transition from kindergarten to first-grade lunch.
"I think it's going to work just great," she said about all-day kindergarten. "The transition will take practice, but I'm anxious to see how it will turn out."
Schrimsher said teachers were a little concerned that their students would get tired late in the afternoon, but she said the morning was a good indication that the program will be a success.
"There were no temper tantrums at all," she said. "No one cried. It's great because it has really changed the whole pace of the day. It's not so rushed, and there's more time to play."
Students explore CMS
On the second day of school, some Craig Middle School students still were admiring their new surroundings.
The new CMS nearly was completed before the start of school Monday, with only the band rooms and auxiliary gym still under construction.
"We have bigger, nicer classrooms," said Jonah Dannaker, 11. "And the library is big and has really nice computers."
One of the most obvious changes is the addition of skylights for natural lighting and carpets that are color-coded for each grade-level.
"I just love the decor and the colors," said Chris Williamson, also 11. "They really designed it really well."
Rebekah Bird, 12, said she is excited to finally be in middle school where she can play in the band.
"We're the first sixth-graders here," Bird said. "And that's really exciting."
Seniors begin final year
For the first time, Moffat County High School students were treated to free hamburgers, hot dogs and chip on their first day of school.
Out front of the school at lunchtime Monday, Superintendent Joe Petrone and MCHS principal Thom Schnellinger, donned aprons and handed out lunch to welcome students.
Although seniors normally leave campus for lunch, many remained at school for the free lunch to kick off the first day of their last year.
Amanda Snyder said not much happened the first day of school besides going over rules and expectations.
"And I made paper airplanes today," she said.
But, Snyder knows the rest of the year won't be easy. She and her friend, Jessi Moser, who have known each other since kindergarten, are taking college-level classes to prepare them for life beyond high school.
"It's crazy that it went so fast," Moser said.
"I guess I'm excited to leave," Snyder said. "I'm sad it's over, but I'm ready to go."
Seventeen-year-old Nick Chew, also a senior, said he loves school and is sad it will soon be over.
He said he likes the social aspect and is glad to see his friends again after a busy summer.
"I'm just going to make the most out of it as much as I can," Chew said. "So when high school's over, I'll have no regrets."