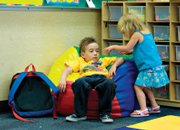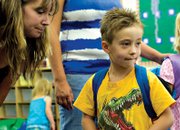 Looking around Shawn Cookston's second-grade class at Sandrock Elementary School, there are subtle indications that it's the first day of school.
Students wear new, crisp white sneakers and hold pencils with perfectly square erasers.
In the doorway, one student sobs quietly in a teacher's arms, unable to find her classroom.
However, seemingly immune to the first-day jitters is Cassie Reed, 7, who sits quietly working on a worksheet. Her demeanor seemed anticlimactic compared to the excitement of preparing for the first day of school in the Reed household.
Two hours earlier, Tonja Reed's living room was alive with the excitement of her four children.
Cassie and her sister, Maddie, 9, are entering second and fourth grades, respectively, at Sandrock Elementary. Shane, 5, is entering kindergarten, which had orientation Monday.
Two-year-old Emma didn't have to get ready for school; instead, she padded around the house singing "Mamma Mia."
"I'm so nervous," Tonja said as she poured orange juice and prepared bowls of Fruit Loops. "We haven't been to the school; I don't know who their teachers are."
Sandrock Elementary, previously Craig Intermediate School, was new territory to all students and parents Monday.
Moffat County School District's reconfiguration turned the building into a preschool through fifth-grade building instead of housing fifth- and sixth-graders.
All Moffat County students, with the exception of kindergartners and preschoolers, started classes Monday.
"I don't have any friends," Cassie said with no fear in her voice. "It's a new school. But I might make some today."
Cassie was fully dressed in her back-to-school purple dress and laced leggings. Her hair, kept in curlers the night before, bounced around the house with her as she prepared for school.
"We woke up at six," Cassie said. "We were just so excited."
She was lacing up her new sneakers when Maddie appeared, wearing the same outfit, only in pink.
Tonja also had dressed Shane up for his orientation, spiking his hair with gel for the occasion.
"My spiky hair is really spiky," Shane said, running his hands over his hair. When asked what he was going to do in his kindergarten class Monday, he replied with a grin: "Play."
Despite Shane's excitement, it won't be easy for Tonja to drop him off at kindergarten, which begins in full today.
"It's hard for me with Shane because of the all-day kindergarten," she said. "I have to work up to it. I mean, he's my baby boy."
Tonja was planning on taking only the older girls to school Monday, but when the baby-sitter didn't show up, all five Reeds noisily climbed into the car and drove to Sandrock.
"I'm scared out of my livings," Maddie said as she pulled her new Jonas Brothers backpack out of the back of her mother's SUV. "I'm ready to puke."
Even though she had a smile on her face, she said she was "nervous as ever" on the inside.
She was worried she'd have a mean teacher or that she wouldn't have any friends in her class.
"I don't want to go now," she said. "My stomach feels weird."
But as her mother checked enrollment lists at the front of the building, one of Maddie's classmates from last year, Gary, appeared and slapped her high-five.
Her friend's welcoming face perked her up a bit, as the family made their way through the hallway filled with nervous parents and apprehensive children.
"I hope Gary's in my class," she said.
Tonja had Emma on her hip and a distracted Shane tagging behind.
After momentarily losing track of Shane and making a few wrong turns, the family arrived at Mr. Kuberry's room.
"Gary's in my class," Maddie said happily. She found her desk quickly, and her mother gave her a kiss before taking Cassie to Cookston's room.
A few minutes after the first bell, Cookston rounded up her students to read a story.
She read "First Day Jitters" aloud to the nervously quiet group.
It was a story about Sarah, who was so nervous to go to school she refused to get up. The story follows Sarah all the way to school, where, at the very end, the students learn that Sarah is actually a teacher.
"Teachers are scared, too," Cookston said. "This is a new school for me, and I was scared I wasn't going to be ready. And I still didn't have enough desks."
Maddie and Cassie each settled into their classrooms as all of the parents reluctantly left their children's sides.
Outside, the traffic had dissipated, and with it all the nerves and excitement that lead up to the first bell of the new school year.