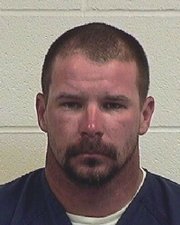 Craig Police Department officers arrested a local man at about 2 a.m. Sunday after he reportedly assaulted an elderly couple at their home in the 400 block of West Sixth Street.
James Lee, 31, of Craig, was booked into Moffat County Jail on suspicion of first-degree burglary, criminal mischief, first-degree assault, second-degree assault and crimes against at-risk adults.
An arrest affidavit in the case states police officers responded to the home of a 65-year-old female and 70-year-old male Sunday morning after the woman called dispatch and reported a stranger was assaulting her husband.
Four police officers responded to the scene, according to the affidavit, where they saw Lee standing outside as the woman screamed to police he was the man who assaulted her husband.
Upon questioning, the affidavit states Lee told police a local real estate agent invited him to the home for a party.
Lee then pointed to a "for sale" sign in the home's front yard with the real estate agent's picture on it, according to the affidavit.
The woman told police she heard Lee ringing her doorbell after she got up late to get a drink, the affidavit states.
When she opened a front window to ask Lee what he wanted, he cussed at her and said she was in his house, and he demanded to be let inside.
The woman went to call the police, and then her husband came to the front window to see what was happening.
According to the affidavit, the woman told police Lee then punched her husband in the face through the window screen, tore the rest of the screen out of the window and began to beat her husband in the face and body as Lee tried to pull the man outside.
The woman said she went to her bedroom to get a walking stick to defend her husband, but Lee took the stick away from her and used it to continue beating her husband, according to the affidavit.
It was at that point police arrived and the incident stopped, the affidavit states.
The 70-year-old man was taken to The Memorial Hospital where he received stitches on his head, according to the affidavit.
A doctor also signed a statement reporting that his injuries pose a "substantial risk of death" because of a laceration to the man's scalp and a large bruise to his right eye.
The affidavit states police collected the couple's walking stick, as well as bloody clothing Lee wore that night, as evidence in the case.
There is no mention in the affidavit of drugs or alcohol being involved in the incident.
The 14th Judicial District Attorney's Office had not filed formal charges as of Monday evening.
Lee is in custody at Moffat County Jail, where he is being held on a $50,000 bond. His next court appearance is scheduled for 8:30 a.m. Sept. 8 in Moffat County Court.