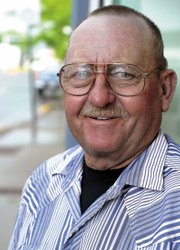 Veterans Day, Nov. 11, is the day to honor all veterans.
Moffat County High School, 900 Finley Lane, will host a ceremony starting at 8:30 a.m. in the auditorium.
All veterans and their families are urged to attend.
There will be a flag and folding ceremony with a 21-gun salute, a presentation on the history of Veterans Day and many other activities throughout the day.
If you plan to attend, please RSVP to Eric Hansen at 826-6590
There also will be a free lunch from 11 a.m. to 1 p.m. at American Northwest Realty, 105 E. Victory Way, for veterans and their families.
Historical dates
• Oct. 26, 1881 - Shootout at O.K. Corral.
• Oct. 28, 1886 - President Grover Cleveland officially dedicates the Statue of Liberty.
• Oct. 29, 1929 - Wall Street collapses initiating The Great Depression.
• Oct. 30, 1938 - Orson Welles causes panic throughout the U.S. with his "War of the World's " broadcast over the radio.
VA benefits information
A person who served in the active military, naval or air service and who was discharged or released under conditions other than dishonorable, may qualify for Veterans Affairs benefits.
Reservists and National Guard members also may qualify for VA benefits if they were called to active duty (other than for training only) by federal order and completed the full period for which they were called or ordered to active duty.
For more information, stop by my office and I will give a more detailed description.
New GI Bill
Veterans Affairs representatives will be calling veterans across the country to explain their education benefits under the new post-9/11 GI Bill and ensure beneficiaries are able to receive payments due to them.
"Instead of making people wait to hear from us, we're reaching out to veterans so they can get the money they need to stay in school," said Eric K. Shinseki, Secretary of Veterans Affairs.
Telehealth Clinic
The Craig Community Telehealth Clinic offers U.S. veterans state-of-the-art technology as well as on-site nursing support and remote practitioner availability. The goal is to provide an extensive array of health care services to veterans in a setting that is accessible and professional.
To appropriately plan and coordinate your visit, access to the clinic is by appointment only. The clinic cannot handle emergency needs. Flu shot walk-ins still are ongoing for veterans enrolled in the VAMC Healthcare system. If you have any questions, all 824-6721.
Tele-psych services
Veterans now can get tele-pysch services at the Craig VA Telehealth clinic. All they need to do is call 970-263-2824 to set up a follow-up appointment for their mental health visit to be done there. If there are any questions, contact Jayne Scribner at VAMC Grand Junction via phone or e-mail Jayne.Scribner@va.gov
For information on these programs and/or other veterans' benefits, call or stop in the Moffat County VSO office at 480 Barclay St., west of the Bank of Colorado parking lot.Call 970-824-3246 or use the fax 970-824-7108. Our e-mail address is veterans@moffatcounty.net. The office is open from 8:30 a.m. to 12:30 p.m. Mondays through Thursdays. Other times can be arranged by appointment only. Bring a copy of your separation papers (DD-214) for application for VA programs and for filing at our office.