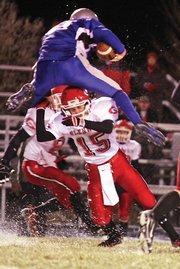 Craig — In a night when the temperatures failed to register above freezing, the Glenwood Springs High School Demons were able to stay hot by beating the Bulldogs, 31-0.
The Moffat County High School boys varsity football team was unable to get any points against a tough Glenwood team.
But it wasn't the cold that stopped the Bulldogs (5-4, 3-4 in Western Slope League), quarterback Matt Linsacum said.
"We just made too many mistakes," he said. "It could have been a lot better. We just had too many penalties that we shouldn't be having this late in the season."
Glenwood (6-3, 6-1 in Western Slope League) took a page out of Moffat County's book as the team pounded the ball between the tackles.
Coach Rocky Whitworth said the Demons still are searching for their identity, and Friday night's game was a big step.
"We're evolving as a team," he said. "I thought we played better ball-control offense tonight."
Leading the charge for Glenwood was senior Tyler Thulson.
The quick back was able to run for two touchdowns and kept the chains moving for the Demons.
Part of Glenwood's reliance on the run was the cold temperatures, Whitworth said.
"We knew it would affect both teams," he said. "We knew passing was going to be limited, so we used the running game and our guys executed."
Neither team scored in a first quarter that was filled with defensive stands.
Senior Brian Ivy recovered a fumble, but the Bulldogs weren't able to capitalize.
On the ensuing Glenwood drive, Scott Mann and Linsacum dished out brutal hits, but Thulson was able to get in for a 7-0 Demons lead.
A field goal with 2:53 left in the half put the score at 10-0.
Glenwood's defense again was stout and stopped Moffat County near midfield to open the second half.
A 20-yard run by Garrett Kobobel put the score at 17-0.
The fourth quarter saw quarterback Luke Jacob connect with Trey Fox to give Glenwood a 24-0 advantage, and a Thulson run with 1:16 left in the game capped the scoring at 31-0.
Senior Jasen Kettle was able to pick up some yards on the ground for the Bulldogs but said the yellow flags kept stunting Moffat County's drives.
"The penalties killed us," he said. "And I think we're a lot better than we played tonight."
The Demons defense didn't give Moffat County any favors, either.
"They were pretty tough - they had a couple of big guys," Kettle said. "I was able to get some yards, and I have to give a lot of credit to my offensive line."
The Bulldogs now turn their gaze upon the Montezuma-Cortez High School Panthers, as Moffat County will travel to Cortez on Friday for the regular-season finale.
"We have to get a win," Kettle said. "If we win, we'll still have a chance at the playoffs."
Had Moffat County been able to control the Demons, then the team would have had a 90 percent chance of reaching the playoffs.
Although the team still has chance for a berth should it beat Montezuma-Cortez, the Bulldogs will be playing for something just as important.
"We're going to try to go out on top for our seniors," Linsacum said. "We want to win for all the guys who have been working their tails off all year."
Kettle said the Bulldogs will be looking to punish the Panthers.
"Football's been my life, and now it's almost over," he said. "We definitely want to take out our frustration and go out on a high note."