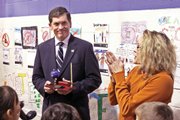 Craig — The gymnasium at the Boys & Girls Club of Craig was filled with the high-pitched voices of children of all ages and the smell of fresh popcorn and spun sugar. But among the Sno-cone stained smiles and painted faces, a message permeated the atmosphere.
Hand-drawn posters by Moffat County School District students lined the walls, each a promise to stay clear of methamphetamine.
About 100 children and community members filled the gymnasium Thursday afternoon for the Not Even Once Carnival, an event that marked the peak of Meth Awareness Week.
The carnival featured games, a bouncy castle, concessions, face painting and the results of a week's worth of poster contest entries from students across the district.
Even among the din and excitement, the message was not lost on 13-year-old Ben Roach.
"It's about COMA, which warns everybody not to do drugs," he said, referring to Communities Overcoming Meth Abuse, a community-driven anti-drug organization.
Through classes at the Boys & Girls Club and presentations and poster contests at Craig Middle School, he said he has learned that meth can destroy lives.
"I think that people who do drugs are losers," he said.
At 13, he already plans on going into the Air Force, going to college and becoming a firefighter. His big dreams leave little space for a vice such as meth.
"The only thing I'll ever do is chew," he said. "Chew beef jerky."
The carnival concluded a week-long meth awareness campaign, the first of its size and kind in Colorado.
The idea was born over coffee among three organizations: the Colorado Meth Project, Communities Overcoming Meth Abuse and the Boys & Girls Club of Craig.
Jonathan Judge, Colorado Meth Project program coordinator, sat down for coffee with Boys & Girls Club executive director Dana Duran and COMA activities director Shirley Simpson, who carved out a basic idea of a presence in the schools and a community carnival.
Judge said the Meth Project has been looking to implement Meth Awareness Week in several communities across the state, and Craig was the first attempt.
But Craig wasn't chosen only because it has its share of meth problems.
"That's only part of the story," Judge said. "Equally important is that the people in this community said, 'We're not going to tolerate this. We're not going to accept it, and we're going to fight back.' But it's a tough fight, and it's been going on for many years."
Two people who have fought back against meth in their personal lives, Tom and Jessie Cramer, stood in the middle of the gym, laughing with their 8-year-old daughter, Madysen.
Madysen's freckled face was glowing with sugar-induced excitement as she showed her father her bag of cotton candy.
Tom has an easy smile and a hearty laugh, and he teased his daughter and tried to send her off for more cotton candy.
But he said he hasn't always been the loving, laughing father he is today.
At the time Madysen was born, he was using meth.
"But now I'm six years clean," he said proudly.
"Yay," Madysen said with a smile. "I'm glad."
Tom and Jessie, who are both COMA board members and advocates for meth awareness, have a lot to smile about after battling the destructive force of meth addiction.
"We don't smile all the time," Jessie said. "But when we do, it's for real."
Although he was in and out of jail and rehab, Tom is now on the same side as law enforcement officials like Moffat County Sheriff Tim Jantz and Judge Michael O'Hara, chief judge of the 14th Judicial District.
O'Hara appeared to accept an award from COMA for his dedication to the community through his passion for the Moffat County Drug Court, which he helped organize almost two years ago.
As he watched the young children toss footballs and rings across the gym, he saw what he hoped would someday be the faces of an educated, drug-free community.
"You can never do enough to educate these children about this stuff," he said. "If one or two kids from this group make a better decision because of this, then it's a great program."
Jantz was also in attendance to support the ongoing education of young children in the hopes it will keep them out of the court system.
"This is what makes inroads for us as law enforcement," he said. "We have to give them the tools to build on. If you wait until they're at an age where drugs are acceptable to them, it's already too late. You've got to educate them as they're learning to form opinions. We're changing a generation."