If you go
• 4 to 6 p.m. Downtown businesses hand out candy during Trick-or-Treat Street. Open to the public.
• 6 to 8 p.m. Fall Family Fun Fest at Calvary Baptist Church, 1050 Yampa Ave. Games, activities and snacks are free to the public.
• 7 p.m. Popular Bar, 24 W. Victory Way, hosts its annual Halloween party for anyone 21 and older.
• 9 p.m. Outtabounds hosts its sixth annual Halloween party at the Moffat County Fairgrounds under the grandstands. Cover is $5 and all proceeds will go to benefit Cory Pike. This event is for people 21 and older.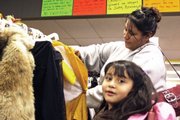 Craig — Kandee Dilldine's nails are painted with stripes of orange, yellow and white.
Ten tiny candy corns glittered under the lights in KS Creations as she helped customers find last minute additions to Halloween costumes Thursday in her craft store.
Dilldine and KS Creations will be a part of Saturday's Trick-or-Treat Street, an evening Halloween event put on by the Downtown Business Association.
During the event, which begins at 4 p.m., community members of all ages can go from door to door and trick-or-treat for candy at downtown businesses. Craig Chamber of Commerce ambassadors will be stationed at street corners to ensure the safety of the children.
"The thing I like about it is that I get to see a lot of it kids out that I normally wouldn't see," Dilldine said. "I get to say hi to my Girl Scouts or friends of my kids. I just love to see the kids all dressed up. It's a great community thing."
A few doors down, Karen Brown, Community Budget Center manager and Downtown Business Association president, also was preparing her store for the holiday event.
Next to her desk sat a large canvas bag, weighed down with more than 30 pounds of candy.
"Last year was the first year we didn't run out," she said. "Hopefully we'll have enough."
She said Trick-or-Treat Street has been a tradition in Craig for as long as she can remember.
"There's really good participation from the community," she said. "It's a huge event. And it's important for businesses because the parents come in and get to look around and see what we have."
She said she's not sure whether she will dress up to hand out candy this year but that her favorite part is seeing the creative costumes that people come up with.
"Sometimes they're just store-bought," she said. "But sometimes they're really creative. I remember a little girl dressed as a geisha last year, and it was so darling. One lady came in with her 1-year-old dressed as a flower, sitting in a flower pot."
The Budget Center is also a place to shop for Halloween ideas, Brown said, because the store saves up strange clothes and costumes all year. They also carry wigs and masks.
"Sometimes people shop while they're here," she said. "But usually, it's just insanity."
After Trick-or-Treat Street downtown, Calvary Baptist Church, 1050 Yampa Ave., is hosting its Fall Family Fun Fest as a chance for families to get inside and out of the cold.
From 6 to 8 p.m., the church will offer free games, activities and snacks for children and parents.
"It's a lot of fun," church secretary Janet Wright said. "The children love it and the parents love it because it's inside and it's warm. They get to watch their kids have a good time."
Wright said the church puts on the event every year as a safe alternative to trick-or-treating.
After the children are put to bed, there is plenty of fun planned for the late-night crowd.
A benefit for local resident Cory Pike, who is in Denver being treated for Burkitt's lymphoma, will take place at 9 p.m. Saturday underneath the grandstands at the Moffat County Fairgrounds and is for people 21 and older.
A local deejay will provide music, and there will be a costume contest.
Popular Bar, 24 W. Victory Way, also is hosting a party with a purpose.
The bar's annual Halloween party will take place Saturday at 7 p.m.
There will be prizes, costume contests and drink specials. The event is open to anyone 21 and older.
Bar owner Dena Garcia, who has put on the party for about 20 years, said all of the proceeds from the event will go to St. Jude Children's Research Hospital.
"We usually get a lot of people dressed up, and people have a good time," Garcia said. "And, it's a good way to help the little kids."