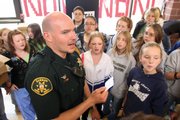 Craig — Tiffany Lingo, 12, and a group of fellow seventh-graders sat down to eat Wednesday in the Craig Middle School cafeteria.
A ghastly face stared back at them from a sheet of paper.
It wasn't a Halloween trick: it was a photo of "The faces of meth," part of a campaign to raise awareness about methamphetamine abuse.
The girls turned the photo face down before they dug into their lunches.
"It's gross, and we're eating," Lingo said. "It looks like her face is melting."
Communities Overcoming Meth Abuse set up a booth at CMS during lunch period as part of Meth Awareness Week.
COMA board member Jessie Cramer, who has seen the consequences of meth abuse firsthand, was hoping the students would be affected by the series of photographs.
She said children are never too young to talk to them about meth abuse. Cramer already has discussed meth with her 8-year-old daughter and said there were many CMS students who know someone close to them with a meth problem.
Lingo's friend, Brittany Corey, 12, said she had a family member who she thinks is on meth. She said part of her hopes he will go to jail, a fate she sees as the only way to get him clean.
"I've tried to help him," she said. "I've told him before, 'You're pushing your family away; you have so much potential.' But, it didn't help."
Cramer, along with COMA activities director Shirley Simpson and Moffat County Sheriff's Deputy Ryan Hess handed out T-shirts and water bottles emblazed with the COMA logo and judged a door-decorating contest.
COMA will have a similar presence at Moffat County High School today during lunchtime with a corresponding poster contest. For the elementary schools, COMA sponsored a coloring contest.
The winning entries of the contests will be displayed at a community carnival today at the Boys & Girls Club of Craig, which will celebrate the end of Meth Awareness Week with activities and giveaways for parents and children.
COMA began five years ago, but this is the first year it has brought its message into the schools.
"We want them to see us and recognize us and what we're doing," Cramer said. "When they do know someone with a problem or if they have a problem, they can come to us and we're networked with a lot of rehab centers. Mainly, we just want to raise awareness."
During eighth-grade lunch, Ashley Whiffen and her friends also overturned a morbid picture of "meth mouth," a decaying, rotting set of teeth, so they wouldn't lose their appetites.
She and her friends called themselves jocks, and the table had representatives of every sport, from volleyball and basketball to croquet and swimming.
Shaylyn Buckley, 13, said she would never try meth because it would take the activities she loved away from her.
"There's no way we could do sports if we did it," she said, and her friends nodded in agreement.
Whiffen and her classmates in Nicole Beckum's class worked this week on decorating their door with an anti-meth message.
In yellow construction paper, Beckum's students cut out puzzle pieces and fit them together.
Each puzzle piece represented one of the students and things that they loved, like sports, family and friends.
Outside the borders of the colorful jigsaw were two pieces that didn't fit in.
They were labeled drugs and alcohol.
"It's the puzzle of life," Whiffen said. "And drugs and alcohol don't fit into that. And I wouldn't want to be like those people who do drugs. It would be horrible."