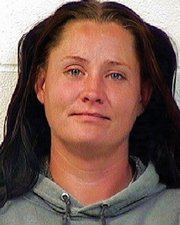 A local woman charged in connection with the investigation into former Craig Police detective Ken Johnson appeared Tuesday in Moffat County Court.
Tausha Merwin is charged with attempting to influence a public servant, a Class 4 felony, after evidence surfaced that she allegedly lied to Craig Police Department officials during a March internal affairs investigation into Johnson's behavior.
She was represented in court by Steamboat Springs attorney Ron Smith, who took the case as alternate defense counsel after the Public Defender's Office cited a conflict of interest.
Smith said he was new to the case and would need time to go through what evidence has been collected.
The judge scheduled Merwin to appear again at 2:30 p.m. Nov. 23 for a status conference.
Merwin's arrest also could cause her to be resentenced in a previous case in which she pleaded guilty to possession of a Schedule 2 controlled substance, a Class 4 felony, and received a deferred judgement.
Possible penalties include two to six years in prison, a $2,000 to $500,000 fine and three years mandatory parole.
The police investigation of Johnson focused on allegations he and Merwin had a sexual relationship while he was a police officer and member of the All Crimes Enforcement Team drug task force.
Such a relationship could have violated the department's code of conduct because Merwin is a convicted felon.
According to arrest warrant affidavits filed against Merwin and Johnson, their relationship also could have been a conflict of interest because Johnson was an active participant in Moffat County Drug Court while Merwin was a client.
However, their relationship alone was not criminal.
Merwin is charged with lying about their relationship during the police department's investigation.
Johnson is charged with multiple felonies for things he allegedly did while involved with Merwin.
Johnson is charged with attempting to influence a public servant, a Class 4 felony; as well as accessory to crime and embezzlement of public property, both Class 5 felonies.
His charges stem from allegedly lying to police during the internal affairs investigation, aiding Merwin in violating her probation, providing her with information about ongoing law enforcement investigations and giving her a laptop computer and other equipment used by the All Crimes Enforcement Team drug task force.
Merwin and Johnson were arrested and charged after a criminal investigation by the 14th Judicial District Attorney's Office.
Collin Smith can be reached at 875-1794 or cesmith@craigdailypress.com.