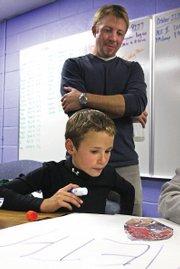 In the middle of a white poster were four letters scrawled in purple.
M-E-T-H.
Samantha Caudillo worked with her group to hastily cover up the letters with post-its, pictures from magazines and drawings of their own.
Each one represented something a community could use to battle meth abuse.
"This looks like a good community," Caudillo said, pointing to a picture of children playing in a park. "Let's put this on there, because if you do meth, then you can't have this."
She and her group were in the midst of a seminar Tuesday at the Boys & Girls Club of Craig about meth abuse and its effect on individuals and communities. Communities Overcoming Meth Abuse worked with the club to incorporate educational programs into national Methamphetamine Awareness Week.
Jonathan Judge, a program manager with the Colorado Meth Project, brought a new curriculum and fresh information for the classes he will teach during the week.
On Tuesday, he focused on meth in communities and how the destructive drug can break down not just individuals, but the structure of an entire community.
He began with an exercise that wove a web of colorful string around the room, each of which represented something the community took pride in, like the Moffat County School District, the Craig Police Department and the outdoors.
When Judge cut one string, the entire web fell apart.
"It's not an individual problem," Judge said. "It affects everyone around that person."
He discussed with the students how toxic waste from meth labs can contaminate natural resources and how two thirds of identity theft cases are meth related.
While the class was meant for students as young as 10, many of the students already have experienced the force of meth within their social network.
Tatam Hickman, 10, said she had a family member who was addicted to meth.
"She had two of her teeth fall out," Tatam said. "And she had to get fake ones."
Samantha said she also had a family member who went through a battle with meth.
"We told her she had to stop or we would all go to therapy or something," Samantha said. "She would act all weird and think people were after her."
She said she understood how meth could grab hold of an entire community.
"It would affect people because once they do it will keep spreading," she said. "It will affect the whole environment. People would just hide in their rooms."
However, she said the community can react and support one another.
"We can tell them their lives will be better if they don't do it," she said.
Although meth education tends to focus its efforts on teens and young adults, Judge said it's important to keep children as young as 10 aware and informed of the drug and its consequences.
"We want to give them sound information and reinforce their healthy habits and identify the negative ones," he said. "There's a lot of ignorance and misinformation surrounding the drug, and we just want to equip them with facts."
Judge said he was not well informed when he started his job with the Colorado Meth Project. His background was in education, not substance abuse.
Through working with addicts, their families and communities, he has seen the effect that meth can have on individuals, communities and society.
He admitted that what he saw was worse than he had imagined.
"The drug is worse than I thought," he said. "The consequences of using are worse than I thought. But the hope is greater than I thought, too. When I see the Boys & Girls Club and COMA working together to educate children, that gives me hope."
Nicole Inglis can be reached at 875-1793, or ninglis@craigdailypress.com.