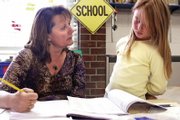 Michele Conroy is more than a second-grade teacher.
Her dedication to education extends far beyond the classroom into the political and legislative realm, where her efforts trickle down into the very classrooms where she and her co-workers educate the children of Moffat County.
"The bottom line is it affects our kids," she said. "And it's teachers that know best what our needs are. We need to be politically active."
As co-president of the Moffat County Education Association and a board member with the Colorado Education Association, Conroy has been an advocate for teachers and the well-being of kindergarten through 12th-grade education in addition to teaching second grade at Sandrock Elementary School.
Recently, Conroy was appointed to a position with the Quality Teachers Commission, a committee of administrators, educators and parents designed to examine the teacher and achievement gaps among districts in Colorado.
The QTC was established in June 2008 to assess and identify possible factors behind the achievement gap among students across the state. Specifically, the commission has used tests to find correlations between teacher access to resources and the achievement of his or her respective students.
"Basically, there are some districts that have more funding, better access to resources, professional development and technology," she said. "We're looking to see if kids in those facilities have higher achievement."
Districts chose whether to participate in the assessment, which measured environmental conditions, such as teacher education and development, and their effect on achievement on standardized tests such as the Colorado Student Assessment Program.
Conroy said the results will be examined at the next meeting.
She said this kind of research is relevant to Moffat County and other rural districts around the state.
She said the geographic location of Craig prevents its teachers from having the same access to professional development as teachers on the Front Range, while the state standards remain the same.
"Right now, there are school districts that are the 'haves' and those that are the 'have-nots,'" she said. "And even the 'haves' don't have everything they need right now."
In an ideal world, Conroy sees equal access to resources, technology and professional development for every teacher in the state.
A lot of it, however, is based on state funding, and school district officials said the outlook for K through 12 funding looks dismal.
That's why Conroy and the MCEA have been active in a campaign to prevent the state legislature from rescinding $300,000 in funding from the school district this January.
"K through 12 education gets 45 percent of the total state budget," she said. "That is a lot of money. We want to make sure it's spent wisely."
Equal funding, she hopes, should mean an equal chance at high achievement
She also hopes to be the voice of rural schools around the state and give districts like Moffat County a presence in Denver.
According to CSAP results, Moffat County currently is an average-performing school district.
But for Conroy, that's not good enough.
"We don't want to be average, and we don't think we are average," she said. "We want them at excellent levels. We want our students to be proficient and advanced in all areas."
And after 20 years in the classroom, she plans to continue to put the most effort into a place where knows she can be productive: the classroom.
"This is what education's all about," she said. "I love teaching kids."
Nicole Inglis can be reached at 875-1793, or ninglis@craigdailypress.com.