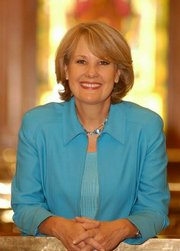 If you go
What: U.S. Senate candidate Jane Norton's address to Moffat County residents
When: 8 a.m. Wednesday
Where: Holiday Inn of Craig, 300 S. Colorado Highway 13
• Norton will make a speech, take questions and meet with residents
Colorado has a new but familiar face entering the 2010 U.S. Senate race, and she plans to make a local appearance at 8 a.m. Wednesday at the Holiday Inn of Craig.
Jane Norton, Colorado's lieutenant governor from 2003 to 2007, plans to run as a Republican against Sen. Michael Bennet, a Democrat, next fall.
Deputy Campaign Manager Cinamon Watson said Norton plans to speak briefly and then meet with local residents, activists and GOP officials.
"I think she'll be talking about the huge overspending by the federal government and creating a strong business climate for Colorado businesses," Watson said. "I think she'll speak about everything from health care to natural resource issues."
Although many conservatives have said the state's new drilling regulations are a key obstacle to Colorado's energy industry, Watson said Norton thinks there are several ways the federal government can ease oil and gas restrictions to bolster investment and jobs without interfering in state issues.
For instance, Norton is opposed to installing a cap and trade system, Watson said.
Cap and trade would put a limit on the amount of greenhouse gas emissions companies could put out and require them to buy pollution credits if they exceed their cap.
Proponents have claimed this could be the best way to control pollution and steer companies toward cleaner practices, and opponents have claimed the system would cause consumer energy costs to skyrocket.
Watson said oil and gas development has been a big issue at all of Norton's public meetings on the Western Slope.
"I'm sure that will come up," she said. "Anywhere we've been in western Colorado, that's been on a lot of people's minds."
John Ponikvar, chairman of the Moffat County Republican Central Committee, said he thinks Norton's roots in Grand Junction will make her a good representative of Western Slope communities.
"I think she represented the state pretty well as a lieutenant governor from the Western Slope," he said. "I think it's always good to have leaders from this part of the state to represent us, who know our history and our interests."
Ponikvar said he didn't know a lot about Norton's specific platform but said that he will attend her appearance Wednesday to find out more about her.
Gov. Bill Ritter appointed Bennet in January 2009 to fill former senator Ken Salazar's seat after President Barack Obama named Salazar secretary of the interior.
Bennet visited Craig this spring when he spoke to residents and visited the local Veteran's Affairs TeleHealth Clinic.
Since then, he has met with Craig and Moffat County elected officials in Washington, D.C., and co-sponsored legislation to pay $17.1 million in leftover oil shale cleanup funds back to Northwest Colorado counties.