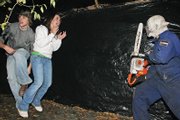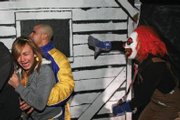 If you go
What: Craig House of Horror
Where: 840 W. Victory Way next to Brass Key Realty,
When: Friday and Saturday, no-scare hour from 6 to 8 p.m., and scare hour from 8 to 10 p.m.
Cost: $5 for no-scare, $7 for scare time
By day, Harvey Preston works for the Neenan Company on the Craig Middle School construction project.
By night, Preston dons a bloody mask and wields a chainsaw in the dark corridors of the Craig House of Horror.
Saturday, he stood in a back corner near his hideout wearing dark coveralls, recalling his childhood experience with a haunted house.
"I went through one when I was little," he said. "I was so scared I had to leave. If I walked through here, I would be scared, I imagine."
Then, he heard the pounding and screaming in a nearby tunnel that meant his next victims were approaching.
He pulled on his mask and a skeletal, mangled face covered his friendly smile. He picked up a small chainsaw and hid behind a wall. In under a minute, he would become the main event of the Craig House of Horror for a few terrified adolescents.
The Craig House of Horror began last year as the brainchild of Dave Payton and his stepson, Daniel.
Located next to Brass Key Realty on Victory Way, this year's venue features about 3,300 square feet of mazes, strobes, black lights and several scenes of horror designed to entertain, delight and utterly terrify.
Payton and a group of Daniel's friends, who also serve as actors while the house is open, have built each section by hand during the last month and a half.
The actors and workers at the venue very little money to perform their duties, but Payton said they do it out of a love to scare and entertain.
"We really have Moffat County's best," he said. "They'd probably pay me to do it."
Payton, who works construction during the day, lives and breathes entertainment in any form.
He plays in several bands and provided the sound system for the house.
He said it would be difficult to scare him if he were to ever take the tour during scare hour.
"I never got into going through haunted houses," he said. "I would just look at the theatrics, and analyze it from an entertainment point of view."
Still, he said his passion to entertain is more like a curse to him.
He said he "has" to do it. There's something in him that motivated him to spend more than 100 hours pounding every nail into place in the building, installing every strobe light and hanging every cobweb.
He said he invested about $5,000 in the project, but the proceeds he makes beyond that will go to the Boys & Girls Club of Craig.
"It's fun, but it's a lot of work," he said. "I would like to not have to think about it until next year, but by January we just start planning it all over again."
Earlier Saturday night, the haunted house offered a two-hour "no-scare" period for younger children.
Nine-year-old Kacie Wheeler played a friendly ghost that offered tours through the house before darkness fell over the compound, and the actors came to work prepared to scare anyone who crossed their path.
Sydni King, 5, was ready to take on the ghosts and gore inside the house - for the third time.
Since there were few customers around during no-scare hour, Payton let Sydni walk through again and again.
As she rounded the first corner she pointed to a bloody head that stared down at her.
"Ugh, I hate that guy," Sydni said.
When she came to the butcher's station decorated with severed limbs, she grabbed a bloody body part hanging form the ceiling and swung it around.
"Say hello to your little friend," she said, laughing.
Throughout the maze, she shrieked and shouted that she was scared, but once she got out, she wanted to go right back in.
"I do this because of the contentment on people's faces when they've been truly scared," Payton said. "It's great venue, and it's just hilarious to listen to people scream and listen to what the actors come up with."
At 8 p.m., scare hour began. Night had fallen and a line of anxious visitors snaked through the parking lot.
Evan Hertzog, one of the 15 actors haunting the corridors of the house that night, was perched up on top of a wooden structure, looking out across the line of patrons.
"Bring 'em in," he growled. "Fresh meat."
He and his co-workers adjust their game plan between groups. They discuss what works and what doesn't and add extra scenes or scares where they can.
"We all love this stuff," he said as he and a group of horrifying clowns huddled in a dark hallway between groups. "It's so fun. I wouldn't be here if it wasn't."
He said the House of Horror was more like a lifestyle, a passion for Halloween and a love of the death metal music that pounded through the house's speakers.
"This is Cannibal Corpse playing right now," he said. "Last year at Christmas, we decorated our tree with Jason masks."
Preston said it was a good way to give back to the community that he grew up in.
"It's great to give these kids something to do," he said.
The next group that came through the artificial fog was four teenagers, clutching onto one another in a train.
Autumn Dobson, 12, kept her eyes closed the whole time.
She shrieked and plastered her and her friends up against the wall when Preston materialized in front of her, waving his roaring chainsaw.
Her friend, Mady Hankins, 13, said she wasn't scared, but a little startled by the chainsaw, which everyone agreed was a highlight of the house.
"I could feel the heat coming off the chainsaw," she said later. "It was really fun."
Back inside, Hertzog and his clowns darted in and out of the secret corridors called chase ways, stalking and startling the groups, seemingly out of nowhere.
Behind black and silver face paint, Hertzog's eyes shone wide with exhilaration.
"Oh man, I love this," he said. "Every day is Halloween for us."