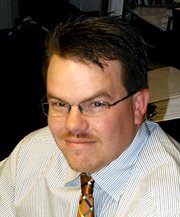 Charlotte and Glen Gariner have purchased the Golden Cavvy Restaurant and Lounge located in downtown Craig at 538 Yampa Avenue.
The restaurant is one of the most recognizable businesses downtown, and employs about 25 people during the hunting season and around 22 the rest of the year.
Charlotte will manage the day-to-day operation of the bar and restaurant.
She her husband are excited to get started and have everyone come in and eat.
"We are going to focus on customer service and good down home cooking just like it has always been," Charlotte said.
In addition to a full menu, they also make orders to go and have room to host meetings. For more information, call the Cavvy at 824-6038.
New Manager at the Village Inn
After working at a Village Inn in Grand Junction for seven years, Jeff Leavitt has relocated to Craig along with his wife and three children to take the general manager position at the Craig restaurant.
Leavitt was working as the assistant manager in Grand Junction.
As a manager, his restaurant philosophy is simple: "Good Service. Good Food."
The local Village Inn employs 43 people, including full-time and part-time positions. You can stop by the location in front of Centennial Mall at 1103 West Victory Way, or give Village Inn a call at 824-9600.
New staff at Kinder
Kinder Family Clinic, where the mission is to "provide quality health care in a caring environment to our community," has added two new service providers.
Brenda Koenig Renz, a family nurse practitioner who specializes in geriatrics, and Kim Boyce, a certified physician assistant specializing in women's health, recently joined the clinic.
Family Nurse Practitioner Jona Ely and Dr. Dennis Kinder will continue to provide a full spectrum of family care, with emphasis in cardiology, gastroenterology and diabetes. Dr. Pamela Kinder provides child and adult neurology services.
Kinder Family Clinic now is accepting new patients, and is contracted with most major insurance companies.
In addition, several practitioners utilize their office to provide services to the Craig community, including dermatology, Dr. Sandra Eivins and Physician Assistant Courtney Cahill; cardiology, Dr. Baker; pediatrics, Dr. Ross; orthopedics, doctors Bomberg and Harrington; and obstetrics and gynecology, doctors Schaller and Peterson.
For more information, visit the clinic at 595 Russell Street in Craig or call 826-0911 to set up an appointment.