Photo Gallery
Pet Adoption Day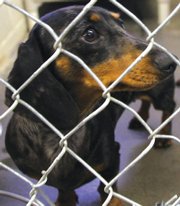 The Humane Society of Moffat County is scheduled to host a pet adoption day from 9 a.m. to 1 p.m. today at the Craig Animal Shelter, located inside the Bear Creek Animal Hospital at 2430 E. Victory Way.
The Humane Society is offering reduced adoption rates.
There are many pets, "especially cats and kittens looking for good homes," the organization reported in a news release.
Available pets can be seen on the Web site, www.petfinder.com. For more information, call Carol Scott at 824-2103.
Available shelter pets
• Unnamed male Dachshund
• Two of five available female border collie mix puppies
• One of the litter of border collie mix puppies
• Sabaka, a female rottweiler
• Derby, a male mix
• Peanut, a female border collie mix
• Hank, a lab mix
• Unnamed Chihuahua mix
• Gordy, a male border collie/chow mix
• Unnamed male sheepdog
• Jack, a male jack russell terrier