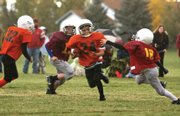 Capping an undefeated season, the Bengals defeated the 49ers to take home the top spot in Craig Parks and Recreation's Doak Walker Football third- and fourth-grade league.
Playing on Tuesday at Woodbury Sports Complex, the Bengals were able to overcome the weather and a physical 49ers defense for an 18-0 victory to finish the season 7-0.
Coach Jeff Pleasant said the game was a fitting end to a stellar season.
"The kids played a good game today," he said. "They've played well all year."
Pleasant said the team played physical when it mattered most.
"They played great defense all night," he said. "They held them scoreless."
The defense also managed to tack on the first points of the game.
Connor Murphy was able to snare an interception and ran it back for the score.
"It was an awesome game," Murphy said. "When they threw it, I said 'I'm going to intercept that ball.'"
With players all crowded on one side of the field, Murphy was able to slip unnoticed through the line.
Elias Peroulis didn't need to slip by the line unnoticed to score the team's second touchdown.
Instead, he ran through it.
A third and final touchdown run by Alex Nevarez sealed the win for the Bengals.
The second half of the game was a defensive battle between two tightly matched teams.