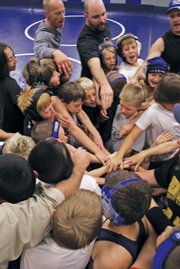 Wrestling matches:
• Oct. 24: Eagle Valley
• Oct. 31: Monster Match Nationals in Denver
• Dec. 5: Bad Dogs Winter Brawl at Moffat County High School
• Dec. 6: Steamboat Springs
With a little more than a week until the Craig Bad Dogs first match, coach Billy Bingham said his team will have to work hard to be ready.
On Tuesday, the youth wrestling team, which features wrestlers from 4 years old and older, found itself on the mat again for the first time since May during the first official practice of the year.
Bingham said the team, which has been wrestling for more than eight years, should be solid again.
"This is going to be a fun year," Bingham said. "We have a good core group of kids."
The team's first match is Oct. 24 at Eagle Valley.
After Eagle Valley, the team will travel to Denver for the Oct. 31 Monster Match Nationals in Denver.
Bingham said the year should be fun because instead of traveling to a summer wrestling camp with about half of the team, the entire team will get the chance to show what it can do in Las Vegas later in the season.
The money the Bad Dogs raise from selling T-shirts and sweat shirts will help pay for the trip.
From Jan. 14 to 17, the team will travel to Nevada to participate in a wrestling tournament, which will help the Dogs become a more complete team, Bingham said.
"It will help this group tremendously," Bingham said. "Most of the fifth-, sixth- and seventh-graders have been with us for three or four years. By going to Vegas, we'll be able to take some of the kids who haven't gone with us yet."
On Tuesday, the coaches took little time to reintroduce the Dogs to the mat.
Conditioning was the word of the evening, as the young wrestlers did strengthening drills in the wrestling room at Moffat County High School.
Bingham said there are several other preparations that need to be made before the season can start.
"Our kids can't drink soda pop, and they need to eat better," he said. "They need to stay physically and mentally healthy for the season."
One new wrestler ready to put in the extra work is Ruben Duarte, 9.
Although he is new to the sport, Ruben said he already has established goals for the new season.
"My goal is to be a full-power wrestler," he said. "If someone grabs me from the back, I want to be able to turn around and grab him."
Ruben said he is prepared to work to get to that level.
"I am going to work out," he said, "every single day."