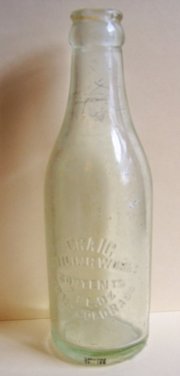 The town of Craig had several pop bottling factories through the years.
The first was Craig Bottling Works, which at its start was known as Strehlke Bottling Works.
The Craig Empire of Sept. 24, 1919, makes the following announcement:
"Instead of having to pay the necessary high freight and express rate on soft drinks, local dealers will soon be able to have their stocks delivered free of charge. A. L. Strehlke of Meeker has purchased trackage property and will erect a modern bottling works. The gentleman has a similar institution at Meeker, but realizes the advantage of being located on a railroad, hence the new venture."
The contract for the 25 foot by 35 foot concrete reinforced building was let in April 1920. It was located on the first lot north of the Railroad Depot at the foot of Yampa Avenue. It would be torn down sometime before the building of the old Stanton Garage in 1939, which is now the site of Robinson Welding at 308 Yampa Ave.
The bottling works company's first manager, R. H. Lytle, and his wife arrived in May 1920 and were staying at the Davis House until they could locate a home.
The May 20, 1920, Moffat County Courier mentions the following:
"All kinds of sort drinks will be manufactured at this establishment, with the most modern machinery, operated by steam power."
In June 1921, LaPool Strehlke, the son of founder A. L. Strehlke, took over management of the plant from Ralph H. Lytle.
The next major change took place in May 1924, when ownership of the bottling works passed from A. L. Strehlke to Jacob Starr, of Crested Butte.
Starr was born in Austria in 1880 and came to the United States as a young man.
The article states that the factory had been idle for the last two years, but people thought there would be a good future for the business in Northwest Colorado.
Jacob Starr had been a coal miner and shortly before his move to Craig had married his wife, Jennie, in Denver. He would run the bottling plant until about 1931, when the factory was closed for good.
The Starrs would stay in Craig for the rest of their lives. Jacob died in 1959, and his wife, Jennie, passed away in 1963.
There were no children born to their union. After closing the bottling works, Jacob became a local contractor, who is known to have built several homes around town. One of them is at 556 Barclay St.
The Museum of Northwest Colorado has two bottles on display from Craig Bottling Works, and just recently acquired a bottle opener with the same name showing J. C. Starr as proprietor.
The museum would very interested to learn more about this early business venture, as well as find photographs of either the building, or Jacob and Jennie Starr.