Western Slope League football standings
Team Conf. Overall
Steamboat Springs 4-0-0 5-0-0
Glenwood Springs 4-0-0 4-2-0
Palisade 3-1-0 3-3-0
Delta 2-2-0 3-2-0
Moffat County 2-2-0 3-2-0
Rifle 1-2-0 2-3-0
Battle Mountain 0-3-0 1-4-0
Eagle Valley 0-3-0 0-5-0
Montezuma-Cortez 0-3-0 0-5-0
Eagle Valley High School at a glance
Coach: John Ramunno
2009 record: 0-5 (0-3 in Western Slope League)
Moffat County High School at a glance
Coach: Kip Hafey
2009 record: 3-2 (2-2 in Western Slope League)
Hafey's record at homecoming: 4-3
Offensive starters:
QB Matt Linsacum
WB Braeden Sullivan
HB Pablo Salcido
TB Nathan Tomlin
WR Scott Mann
TE Brady Conner
LT Halen Raymond
LG Angelo Raftopoulos
C Gage Spears
RG Jeremiah Gordon
RT Cody Adams
Defensive starters:
NG Travis Nolan
LT Casey Martin
RT Garrett Spears
ROLB Jordan Wilson
LOLB Brian Ivy
MLB Todd Stewart
ILB Nathan Tomlin
ILB CJ Walt
CB Scott Mann
CB Miguel Molina
S Matt Linsacum
Coach's keys to victory
• No turnovers. Moffat County's powerful offense was stalled because of turnovers in its last two games.
• Control the clock. When the Bulldogs offense is moving, it eats up a lot of clock, allowing the defense to rest.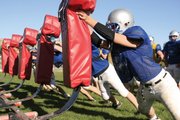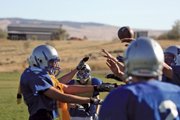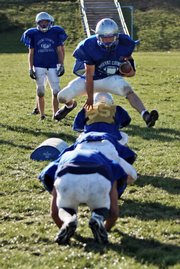 Coming off two straight losses, the Moffat County High School varsity football will get exactly what it needs.
A little homecoming.
The team will take on the Eagle Valley High School Demons at 7 p.m. tonight at the Bulldog Proving Grounds as it hopes to get back to its winning ways.
Head coach Kip Hafey said the time was perfect for his team to get back on track after dropping games against Palisade High School and Delta High School.
"Homecoming is great for the school and the community," Hafey said. "The kids have had a great time all week, and it all wraps up with our game Friday night."
Hafey said the team always looks forward to its homecoming match-up.
"It's a special night for all of us, and especially for our seniors," he said. "It's a fun game to play in, and even more fun to win."
Eagle Valley comes to MCHS with a 0-5 record.
Accounting for the Devils cold start could be the competition - Eagle Valley faced Faith Christian High School in its opening game, then traveled to Olathe High School, hosted Glenwood Springs High School, traveled to Palisade and hosted Steamboat Springs High School.
Heading into this weekend's slate of games, Eagle Valley's opponents had a record of 22-5.
Eagle Valley's offensive arrangement could prove difficult for the Bulldogs.
Running out of the double wing offense, the Devils will throw lots of different looks at Moffat County, Hafey said.
"They use a lot of misdirection and play action," Hafey said. "It's not an offense you see a lot, and it's difficult to prepare for. But, I know our guys will step up."
When Moffat County has the ball, it has to continue to attack while holding onto the ball.
"The last few games, turnovers have eaten our lunch," Hafey said. "This offense is our best defense, but we need to hold on to the ball."
The Devils defense will try its best to knock the Bulldogs back.
"They have an aggressive defense, with some good inside linebackers," Hafey said. "We expect to see them in a 53, and we might see a four-man front as well."
Hafey said the Bulldogs will attack the Devils defense like it has attacked all of its opponents - with smash-mouth running and fakes.
"If they counter us up the middle, we'll run to the edge," he said. "If they keep us to the inside, we'll run it up the gut."
Moffat County has had injuries in the backfield all season.
Against Eagle Valley, Jasen Kettle will be held out of the Bulldogs' lineup, while Pablo Salcido will return.
But, the absence of one back creates an opportunity for others, including fullback Mason Updike, who has aided Moffat County's power running attack, and Braeden Sullivan, who has been explosive when he has been able to find the edge.
"This will be a chance for some of our sophomores to step up," Hafey said. "It's a chance for them to show that while they may be sophomores, they can play like upperclassmen."