Honorees
Below are the winners from Monday's Moffat County High School boys varsity football awards dinner.
Academic all-state honors (3.6 grade-point average or higher)
Casey Martin
Angelo Raftopoulos
CJ Walt
Academic all-state honorable mention (3.3 GPA or higher)
Cody Adams
Brian Ivy
Jasen Kettle
Matt Linsacum
Jordan Wilson
Scott Mann
Travis Noland
Gage Spears
Western Slope League All-Conference team
Matt Linsacum (first team)
Brady Conner (honorable mention)
Nathan Tomlin (honorable mention)
Jordan Wilson (honorable mention)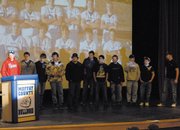 Quarterback Matt Linsacum knew if he worked hard enough, it would pay off.
On Monday, Linsacum was told his work had been rewarded with an all-conference first team selection during the Moffat County High School varsity football team awards dinner.
Linsacum, a senior, was selected by other coaches in the Western Slope League as one of the league's top players.
"I made it so it would end like this," Linsacum said. "I worked hard — I knew four years would go by fast because I always heard from the upperclassmen, so I did what I could to get where I am."
On a night that was dedicated to former Bulldog and 2007 Moffat County High School graduate Cory Pike, who died Nov. 16, coaches, parents and players bid farewell to a former teammate.
The team also said goodbye to 13 seniors and introduced this year's freshmen class.
As one of those 13 seniors, Linsacum said he was surprised when he heard his name called for all-conference honors. But he said he had mixed feelings about ending his high school career.
"All the above — depressing, sad, but we had a good year, a fun year," he said. "I've played with these kids forever."
Linsacum finished the year completing 44 passes in 86 attempts for 679 yards and 12 touchdowns as the Bulldogs went 6-4 and narrowly missed the playoffs.
Linsacum was joined by all-conference honorable mentions Nathan Tomlin, Brady Conner and Jordan Wilson.
The Bulldogs had three academic all-state athletes as Casey Martin, CJ Walt and Angelo Raftopoulos all were honored.
Moffat County also had eight academic all-state honorable mentions including Linsacum, Wilson, Cody Adams, Brian Ivy, Jasen Kettle, Scott Mann, Travis Noland and Gage Spears.