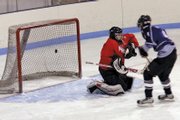 Box Scores
Box score from Saturday's Moffat County Bulldog varsity ice hockey game against Rock Springs (Wyo.).
Team First period Second Third Final
Moffat County 2 1 1 4
Rock Springs 1 0 0 1
Box score from Saturday's Moffat County Bulldog varsity ice hockey game against Cheyenne (Wyo.).
Team First period Second Third Final
Moffat County 0 0 0 0
Cheyenne 0 4 1 5
Eighteen seconds into the first Moffat County varsity hockey game of the year, the Bulldogs let one get by.
Playing Saturday at the Moffat County Ice Arena, the Bulldogs got the puck deep into Rock Springs (Wyo.) territory, but a deflected pass put the Miners on the attack, and they were able to slip the puck into the goal.
Luckily for the Bulldogs, it would be the only mistake they would allow in the game, as they won, 4-1.
Senior Jacob Baron, a left wing, said the goal didn't rattle the senior-laden Bulldogs.
"We were a little stressed, we were all thinking, 'How did Rock Springs get so good?'" he said. "But we kept our heads on."
After Rock Springs' goal, Moffat County went to work.
Junior CJ Walt scored unassisted on Rock Springs' power play to knot the score at 1-1 with four minutes left in the first period.
A minute later, senior Nathan Tomlin connected off a rebound to give the Bulldogs the lead.
Moffat County didn't waste any time scoring, as Bubba Ivers scored 20 seconds into the second period.
Neither team scored again until Jarret Walt hooked a shot in with five minutes left in the third period.
For the first game with the entire team, Baron said the Bulldogs looked good.
"I thought we played well," he said. "Our passes were good, and I liked how our offense was going."
Baron said the first game also showed some flaws in the Bulldogs' game.
"Penalties are killing us already," Baron said. "We also need to keep our heads up when we pass the puck and make sure we're passing to the right guy."
Even when the team was down early, they didn't let Rock Springs go on a run, Baron said, and as the game got physical, Moffat County kept its cool.
"We kept a good attitude through the whole game," he said. "Whenever anyone came back to the bench, we were able to calm them down and not retaliate."
After the Bulldogs got ahead, there was no need to retaliate, Baron said.
"Our offense was working great," he said. "Nathan (Tomlin) and Cole (DuBois) were rushing and we were able to put the puck in Rock Springs territory. I thought everyone did a good job on defense."
Bulldog goalie Curt Ellgen stopped 16 of 17 shots on goal for a save percentage of 94 percent.
The Bulldogs took 32 shots against the Miners.
Coach Jerome Strahan said the team improved drastically from the junior varsity's 7-1 loss against Cheyenne on Friday.
"Last night, it looked like they panicked," he said. "(Saturday) they settled down, stuck with the game plan and made some good passes."
Strahan said his team was able to get ahead with smart passing and taking clean shots.
Even more importantly, the team refused to let up after falling behind early, Strahan said.
"For any team, they need to come together and support each other," he said. "They played into the system and had a lot more fun."
Coach Walker Criswell said his team played better than expected for the first game of the season.
"I thought they played reasonably well," he said. "There's some stuff we'll need to work on, like getting our strategy tuned in, but I thought they played well."
Against the Cheyenne Capitols on Sunday, the Bulldogs weren't able to get their offense rolling and fell, 5-0.
The first period was scoreless, with Cheyenne out-shooting Moffat County, 8-6.
Cheyenne scored five minutes into the second period and again with seven minutes remaining.
Ellgen made an athletic dive to try to stop a goal, but the Capitols connected off the rebound to put the score at 3-0 in favor of Cheyenne with four minutes left in the second period.
With a five to three player advantage, Cheyenne scored for the fourth time in the second period.
Cheyenne again scored on a power play halfway though the third period to cap the scoring at 5-0.
The Bulldogs next scheduled game is Dec. 13 at Durango.