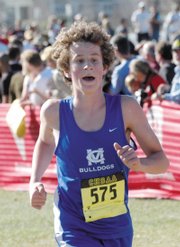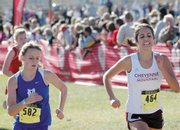 Girls Results
Team Score
Alamosa High School 129
2.Thompson Valley High School 166
Cheyenne Mountain High School 173

Evergreen High School 191

Mullen High School 234

Montrose High School 268

Greeley West High School 277

Greeley Central High School 278

Moffat County High School 301

Castle View High School 313
Girls individual results
Name Time Place
Maddy Jourgensen 18:58 4
Eryn Leonard 20:09 29
Bailey Hellander 21:11 74
Nike Cleverly 21:20 79
Sassy Murray 21:51 115
Kelly Ciesco 22:15 137
Jaycee McCoy 23:22 163
Boys results
Team Score
Greeley West High School 189

Cheyenne Mountain High School 209

Castle View High School 297

Thompson Valley High School 318

Mullen High School 327

Pueblo West High School 328

Niwot High School 349

D'Evelyn High School 355

Moffat County High School 355

Pueblo South High School 360
Boys individual results
Name Time Place
Chris Zirkle 16:15 6
Alfredo Lebron 16:45 18
Alex McCoy 17:15 40
Rene Molina 18:37 143
Kye Adams 18:43 148
Jarred Blevins 19:04 165
Corey Wojtkiewicz 27:44 195
Running Saturday at the state cross-country meet, Alfredo Lebron wanted to outrun teammate Alex McCoy.
"I was trying to beat Alex, and I think there was someone right behind me named Alex," Lebron said. "So, every time I heard the cheering I'd try and go faster."
It turns out Lebron wasn't a few steps ahead of McCoy, he was a few steps behind Silver Creek High School's Alex Paul — the 11th place finisher at Fossil Ridge High School in Fort Collins.
Lebron, who had expected to finish near the middle of the pack, wound up with an 18th place finish as Moffat County High School boys and girls teams finished ninth.
"I thought I ran strong," Lebron said. "I thought I would finish about where Chris (Zirkle) did last year, somewhere in the 50s."
Lebron finished 18th with a time of 16:45, Alex McCoy finished 40th, Rene Molina finished 143rd, Kye Adams was 148th, Jarred Blevins was 165th and Corey Wojtkiewicz finished 195th.
Zirkle finished sixth with a time of 16 minutes and 15 seconds.
"It was good, I had a really good race," he said. "I wanted to get in the top seven and I wanted to get around 16:10. So, I definitely did what I set out to do and definitely had the best race I've ever had."
Zirkle said the pack, which numbered more than 190 runners from across Division 4A, dispersed early, giving him a chance to make his move.
"The beginning was pretty intense," he said. "I had to do a lot of catch-up in the middle after a lot of kids in the upper-pack dropped off after the first mile."
Zirkle wasn't the only Moffat County runner to have a quick time in Fort Collins.
For the girls, Maddy Jourgensen ended an impressive junior campaign with a fourth-place finish, running the course in 18:58.
Eryn Leonard finished 29th with a time of 20:09, Bailey Hellander finished 74th, Nike Cleverly finished 79th, Sassy Murray finished 115th, Kelly Ciesco finished 137th and Jaycee McCoy finished 163rd.
Leonard was racing in her first state meet as a freshmen.
She said the race was different than regular season meets.
"It was much more competitive, and I had more nerves before we started," she said. "I was very nervous, but when you start running it goes away and you have more energy."
Nerves or not, Leonard said she was pleased with how her last race of the year unfolded.
"I'm very happy with how I ran," she said. "Now, I'm excited for next year."
Cleverly said that while the team finished ninth, it was a successful day.
"I think we all improved our times, and that was a goal we really wanted to reach," she said.
Cleverly said the course was tough.
"It's hard to motivate yourself, because it's just dirt," she said. "There's nothing to look at and say 'I'm going to make it to that point.' You're on your own out there."
Jourgensen said she wanted to finish higher, but she still was pleased with her performance.
"I'm happy — fourth at the state meet is pretty good," she said. "My goal was to be in the top three. Finishing at the state meet is cool anyways, but finishing top five made it better."
Jourgensen said the team impressed her on the largest stage of the year.
"I'm really happy with the team," she said. "We all definitely tried our hardest, and that's all you can do."
Coach Todd Trapp said injuries hurt the boys' team's chances.
"Some of the kids had really good races and some had average races — maybe not their best of the year," he said. "I know the guys were looking to finish a little higher, but going in, we knew it was kind of a wild card with Corey injured. Had he been healthy, it would have been different."
The girls race went more to plan, Trapp said.
"Maddy got out early and put herself in position to be one the top girls," he said. "The other girls found the people they train with and tried to push each-other and work their way up."
For freshmen Bailey Hellander, waiting was the hardest part.
"It was hot and long, but not as bad as I thought it would be," she said. "It was nerve-wracking at the start and I was shaking, but it wasn't too bad."