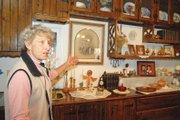 As a girl, Mary Lou Allen had trouble learning to tell time.
Her teacher at the Lower Big Gulch School in the late 1940s became frustrated with turning the hands of the wooden clock and trying to teach a young Mary Lou how to read it, so she gave up and sent the clock home with her to practice.
With the clock on her lap, she rode the few miles back to her house in a car that doubled as a school bus.
By the time she reached her house, her bus driver, Guy Updike, and two of her neighbors had taught her how to read the face clock.
Now, a lone tree in a field is the only lasting landmark of Lower Big Gulch School.
But Allen still lives just a few miles from the tree - near the site of the house where she grew up in a family of Moffat County homesteaders.
Today, she is doing everything she can to preserve the memories of her childhood and the history of her family and Moffat County.
"We're an endangered species," she said. "There aren't many of us left."
Allen is the new president of Preserving the Last Frontier, a history group that meets each month to trade stories, work on projects and listen to presentations about Moffat County's roots.
She took over for Carol Jacobson, the former president, who died in a rafting accident July 29.
She said she didn't ask for the president's job, but she felt it was her duty to carry on the work.
"I thought about (Jacobson) and Vic Beckett and all the work they had done," she said. "I have to keep things going, for them, for us and for everyone."
For Allen, there is nothing more natural than leading a history club. She and her husband, John, who was one year ahead of her at Lower Big Gulch, keep hundreds of antiques that have been passed down through generations.
"It's not like we go out and buy all of these things," she said. "They're just from the family. It's like I live in a museum."
The house, which once was owned by John Allen's grandparents, and all of the antique items displayed around the property symbolize the integration of two families whose roots run deep through Moffat County history.
In her kitchen hangs a string of copper pots and teakettles her grandparents used to heat water for baths and cook in the early 20th century.
Her mantle is decorated with oil lamps with chimneys, and on her coffee table sits a pair of headlights for a horse buggy.
At each of the Preserving the Last Frontier meetings, she collects oral histories - memoirs shared and enjoyed by each of the members.
"We just want little snippets of history,'" she said. "Just stories about our corner of the world. I love all the old-timers that come, and I love listening to them tell their stories. A lot of people have come and gone and are totally forgotten, but the more people you talk to, the more you fit those pieces together. We all get to benefit from that."
Outside of their home Wednesday, the Allens sat on a bench together over looking Mary Lou's garden on a warm fall evening.
The garden is her sanctuary, where she kneels on the ground, where her husband once milked his family's cows when he visited his grandparents' house.
Through their 47 years of marriage, the two have worked together to share their histories and slowly fit them together, a lifelong jigsaw puzzle of family history.
Allen wrote a book compiling memories from Lower Big Gulch and also recorded a CD of an oral history of Moffat County.
"I don't know why I did it," she said about her projects. "It's just one of those things I do, I guess."
Her next project revolves around a piece of art that now hangs in her living room.
For 100 years, Miss Kitty was shrouded by history.
Katie Butler Chase, also known as Miss Kitty, was the sister of Allen's grandfather.
Her brother, an artist, drew her portrait, but she didn't like it and asked him to hide the picture.
He disguised the picture by putting it in a frame behind one of his other drawings.
A century later, Mary Lou put together a book of prints of her grandfather's work.
The weekend of July 4, 2009, Miss Kitty was found.
"I was so excited," Allen said. "It's the only family portrait he ever painted. And isn't she just beautiful?"
Miss Kitty is now framed and looks out over the living room of a house just three miles from where she lived in the early 20th century. She had come full circle, back to the home of the Butlers and the Allens.
"I'm planted," Allen said. "My roots run very deep."
Nicole Inglis can be reached at 875-1793, or ninglis@craigdailypress.com.