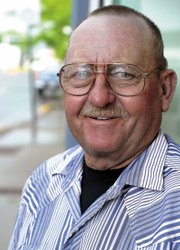 Wednesday is Veterans Day.
Moffat County High School, 900 Finley Lane, is hosting Veterans Day activities.
A ceremony will start at 8 a.m. in the high school auditorium.
There will be a short speech about the origin of Veterans Day, a flag folding ceremony and oration about the American flag. There also will be a flag ceremony and 21-gun salute.
If any veteran wishes to attend, RSVP to Eric Hansen at 826-6590 or myself at 824-3246 so there will be enough seats available.
American Northwest Realty, 105 E. Victory Way, also is having a free lunch for veterans and their families from 11 a.m. to 1 p.m.
Veterans of Foreign Wars Post 4265 is having a barbecue at 419 E. Victory Way from 4:30 to 6:30 p.m. Brats, hot dogs and potato salad will be served. Please bring a covered dish to share.
And remember to fly your flags at full staff on Veterans Day
Historical veteran/national dates:
• Nov. 6, 1962 - United Nations condemns Africa's apartheid policies and calls on all members to end economic and military relations with the country.
Help wanted to drive veterans' van
I still need drivers for the veterans' van to go to Grand Junction periodically. If you are interested, please come into my office and fill out the paperwork.
DOD announces new 'Stop Loss' program
The Department of Defense recently announced that it will be implementing a new program to compensate service members affected by "Stop Loss."
This new initiative pertains to current or former service members who involuntarily served from Sept 11, 2001 to Sept. 30, 2009.
Service members will receive $500 for each month they serve past the end of their contract. This new program came about as a result of an appropriation bill that was approved by Congress, granting the department $534 million to re-compensate affected service members for their time.
Service members seeking to take advantage of this program have until Oct. 20, 2010, to apply. To qualify, the service members must have been honorably discharged and have the appropriate document to prove eligibility.
I have the Web sites for all branches of service in my office.
Craig Telehealth Clinic reminder for veterans
The Craig Community Telehealth Clinic offers U.S. veterans state-of-the-art technology as well as on-site nursing support and remote practitioner availability. The goal is to provide an extensive array of health care services to veterans in a setting that is both accessible and professional. To appropriately plan and coordinate your visit, access to the clinic is by appointment only. The clinic cannot handle emergency needs. Flu shot walk-ins are still on-going for veterans currently enrolled in the VAMC Healthcare system. Questions? Call 824-6721.