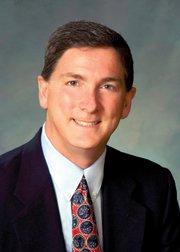 Dan Maes freely admits he's not among the better-known names in the 2010 governor's race, but that's a good thing, he told a crowd of about 25 people Wednesday at the Holiday Inn of Craig.
"I'm not a party insider, folks," he said. "If you want a guy the party is going to say, 'He's our guy, he has the money and the connections,' that's not me. He's down in Grand Junction somewhere."
Maes never named who he was referencing, but state Sen. Josh Penry is a Republican from Grand Junction who emerged at the forefront of the pending election in recent months.
Again and again, the audience peppered Maes with questions about how he could be trusted when they already had lost faith in the Republican Party and all politicians.
"When big business comes to buy you, what are you going to do?" asked local Bob Grubb.
Maes consistently stood on his background, which includes no time in public office.
"I'm not a career politician," he said. "I'm not worrying about if I make a decision, am I not going to get re-elected."
Instead, Maes said his extensive background in business development - he has worked in several industries and sold two businesses - would help him be a different kind of governor, one who would approach office from a real-world point of view.
"This is what I'm gifted at," Maes said. "I understand revenue sources and how to generate revenue, instead of jacking up vehicle registration fees and taking away your senior property tax exemptions and everything else."
Most of Maes' ideas for spurring the economy centered on bringing oil and gas development back to Colorado.
Before he addressed the whole audience, Maes was asked by two Holiday Inn employees how he felt about the state's new drilling regulations, which raised protections for wildlife and public health.
Maes said his brother-in-law runs a small natural gas company and explained to him that the regulations make it too costly for energy companies to do business in Colorado.
He added he would do whatever he could to bring energy development back if he were in the governor's office.
"I understand what happened here with growing unemployment rates and growing foreclosure rates," Maes said. "The new regulations have got to go."
Later, Grubb challenged the candidate about his view of the energy economy.
The price of oil and gas is too low right now for companies to make money anywhere in the country, Grubb said, and companies are shutting down drilling rigs everywhere.
"You can talk about the regulations all you want," Grubb said. "They're leaving because of the price of oil and gas, whatever they're telling us."
Maes agreed and said companies are capping wells because of low prices, not regulations.
And although those same companies are shutting down rigs across the country, they are reducing investment in Colorado at a higher rate because any new development would be affected by the state's new regulations.
"We have to do something about the regulations now because we have to be poised for the recovery," Maes said. "We want those companies to come here before they go anywhere else."
When the questions steered to social issues, Maes said he was pro-life, and he added that a man and a woman "is the best model" for any family.
However, Maes also challenged the crowd at times, once interrupting a man to tell him he doesn't believe in conspiracy theories.
When people asked his opinion about personal income questions being included on the U.S. Census and other government surveys, Maes said he sincerely thought the government did not have any nefarious intentions.
Still, there is a huge problem in government, Maes said, and only voters can make a difference.
He reminded the crowd not to listen to who can buy the loudest voice when they cast a ballot next fall.
"Dollar bills don't vote," Maes said. "They do persuade, but you vote. You show up, you pull the lever."
Collin Smith can be reached at 875-1794 or cesmith@craigdailypress.com.