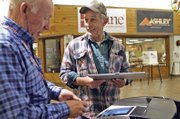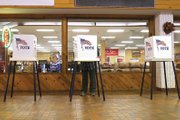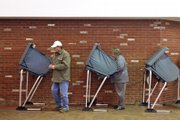 By the numbers
• Total votes cast: 1,005
Craig: 225
Maybell: 17
Dinosaur: 8
Early voting: 117
Mail-in ballots: 638
• Total registered voters: 8,730
• Voter turnout: 11.5 percent
The general election Tuesday tied the lowest voter turnout in Moffat County for any election since 1990, other than two primaries in 2000 and 2008.
About 11.5 percent of the county's 8,730 registered voters cast a ballot this year, a total of 1,005 people.
The 2008 primary still carries the distinction of the lowest voter turnout in any election since 1990, with 7 percent.
However, the 2008 November election had the highest voter turnout of the past two decades, with 69 percent casting a ballot in the race that elected the country's first black president.
About 10 minutes after 5 p.m. Tuesday, the vote center at Centennial Mall was as empty as it was almost all of Election Day, said Elaine Sullivan, Moffat County clerk and recorder.
It had been one of the slowest elections Sullivan had worked since she started in the early 1990s, she added.
"I just think most people felt like there wasn't much on the ballot this year," Sullivan said.
"The (Moffat County) School Board races were uncontested, and the ballot question from the city didn't seem to have that much interest for people," she said.
The vast majority of those who voted cast their ballots before Election Day.
The county received 638 mail-in ballots, or about 63 percent of the total votes cast. Another 117 people voted early, or about 12 percent.
A total of 250 residents voted Tuesday - 225 in Craig, 17 in Maybell and eight in Dinosaur - or about 25 percent of the total turnout.
Although a heavy percentage of those who voted this year did so by mail, officials said there was a similarly low turnout even among residents who received mailed ballots.
Of the 1,793 residents who received ballots through the mail, about 35.6 percent filled theirs out and returned it.
Collin Smith can be reached at 875-1794 or cesmith@craigdailypress.com.