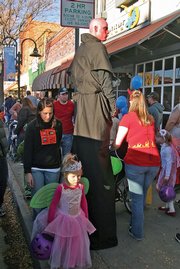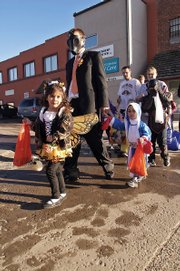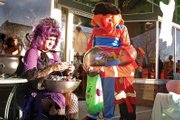 When Aislynn Staudt, 2, tried on her Tinkerbell costume the morning of Halloween, something was wrong.
Her mother, Shannon Staudt, heard her calling for help from the other room.
"Mom, help," Aislynn said, waving her wand. "I can't fly."
Shannon laughed recalling all of the preparations that went into dressing her family of five.
"I think we went through about 20 costumes with her," she said. "We looked at princesses, fairies ... but she had to be Tinkerbell. I think she thought when she put the costume on she'd actually be able to fly."
As the sun began to set on a mild fall afternoon in downtown Craig, the Staudts joined hundreds of other Tinkerbells, ninjas, pirates and robots as they roamed up and down Yampa Avenue collecting candy from downtown businesses.
Trick-or-Treat Street, an annual public Halloween event, packed the sidewalks for two hours Saturday evening as children of all ages and their families moved from business to business.
The Staudts were one family that proved Halloween spirit can be enjoyed at any age.
"I get excited about two weeks before Halloween," Shannon Staudt said. "I just love getting into it and all the preparations."
Preparing means letting her three children pick out their own costumes: Aislynn's Tinkerbell costume, a "Yo Gabba!" character for 2-year-old Zoe and a ninja outfit for 8-year-old Gavin.
Shannon and her husband, Scott, dressed as a couple from Roman times.
Gavin said he liked ninjas because they could do things that regular people couldn't.
"They can walk on walls and stuff," he said.
But unlike his sister, he realized he might only have limited powers, even in his ninja costume.
"I can only walk on walls a little," he said.
As children made their way through the streets Saturday tripping on dress hems and blinded by oversized masks, their parents followed dutifully and directed them toward the candy providers.
Mothers like Ashley Harris, of Craig, gave up an evening of fun to bring their infants out into the sea of colorful costumes.
Even at 8 months old, Aidan River Harris was mesmerized by the array of people and costumes from his vantage point in a baby carrier on Harris' chest.
"He's been giggling a lot," she said. "I think he just really likes looking at all the people and colors."
Her friend, Samantha Hinkel, also carried an infant on her hip. Four-month-old Connor was dressed as a monkey with a half-peeled banana on his head.
"Just a minute ago he saw another baby dressed as a monkey," Hinkel said. "He recognized it and smiled and waved."
Still, the women want their own Halloween and are planning on taking a night off next week to dress up and go out.
"We love Halloween," Harris said. "We'd dress up every day if we could."
Even though the little supermans can't fly and the transformers can't really turn into cars, the magic of the Halloween illusion was enough for most of the children that walked the sidewalks.
Tracey Lathrop, of Craig, walked her granddaughter, Hannah Jenkins, 4, down Yampa Avenue while making sure to keep her princess dress clean and her tiara in place.
"It's about dressing up and having fun," Lathrop said. "It's so about the kids."
As Hannah handed her grandmother a Tootsie Roll from her pumpkin bag, Lathrop asked her why she wanted to be a princess for Halloween this year.
"I already am a princess every day," Hannah replied.