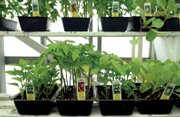 Bloomers
Vegetables not your thing? Plenty of flowers will thrive in Northwest Colorado. Here are a few of Tunies & Such's most popular blooms that are easy to grow in this climate:
• Petunias
• Pansies
• Geraniums
• Snapdragons
• Violas
• Bleeding hearts
• Hens and chicks
For those with a green thumb, their season to shine is just around the corner. Gardeners are gearing up for planting season.
Bob Meckley, owner of Tunies & Such, 690 Yampa Ave., is stocked with vegetable plants, in addition to his selection of plants, flowers, shrubs and trees.
And while gardeners are gearing up by buying early and preparing their land, Meckley said it's not quite time to put plants in the ground.
"I wouldn't plant until after Memorial Day because we're going to get some more frost," he said.
Some local gardeners will move plants from inside at night to outside during the day until it's warm enough overnight to plant them in the ground, Meckley said.
Others will plant in the soil earlier and cover plants with protective shields, guarding them from the cold.
Meckley said the main components of a fruitful garden are good soil, adding peat and nutrients, proper watering and keeping the space well-weeded.
"If you have three people eating off the same plate, none of them are going to get full," Meckley explained about the importance of weeding.
And although Northwest Colorado's climate and soil conditions can make gardening a challenge, Meckley said it's certainly possible to have a successful season, even if it's a short one.
"We have a 74-day growing season, and that's it," he said.
That may be one reason tomato plants that are already grown and budding are Meckley's most popular sell. He said the plants will produce tomatoes all summer long. He also sells a lot of cabbage, cauliflower and pepper plants.
For those who might need some advice about how to get started or be more successful this year, garden.com offers these tips to a hearty garden:
• Select a sunny location with access to water. Make sure it is within eyesight because "out of sight, out of mind" will apply and gardens do better with daily attention.
• Prepare the soil well by adding at least two inches of compost to weed-free soil and work in with a spade.
• Plan your space well and avoid a garden bigger than you can handle. A successful small garden is better than a large-scale failure.
• Choose plants and seeds that are adapted to your area. Check with your local county extension office for recommended varieties.
• Have a soil test done, and fertilize according to the recommendations.
• Start seeds indoors early or purchase plants from the garden center and set out in the garden at the proper time for your area.
• Mulch well to conserve water, prevent weeds and keep the roots from overheating.
• Stake or trellis plants as needed to conserve valuable growing space in the garden.
• Check the garden frequently for signs of disease, insects and weeds, and treat accordingly.
• Harvest often to keep plants in bearing mode. Pick in the morning while it is still cool.
There's no doubt that gardening requires patience, time and energy, Meckley said, but those who can stick with it can reap the benefits.
"It's a lot of hard work," Meckley said. "It just takes time. But a lot of people have gardens, and they just love them."