Dedicated to Betsie
Saturday's Special Olympics Colorado Western Area Summer Games, hosted at Moffat County High School, is being dedicated to Betsie Madsen, a local woman and former Special Olympics athlete who died in February 2009.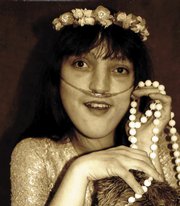 If you go
What: Special Olympics Colorado Western Area Summer Games
When: 9:15 a.m. Saturday
Where: Moffat County High School, 900 Finley Lane
• Volunteers still are needed. Anyone who would like to volunteer should be in the high school commons area between 8:30 and 9 a.m. Saturday.
Saturday won't be the first time Josh Chase has anchored the torch run for the annual Special Olympics event in Craig.
He ran the last leg of the run, which signals the beginning of the games, once before, three years ago.
This year's turn, however, has special meaning for the 22-year-old.
"This year, I'm running for everyone, but I'm also running for somebody special," Chase said Thursday afternoon.
That special someone is his longtime friend, the late Betsie Madsen, a 27-year-old local woman who died Feb. 17 at The Memorial Hospital.
"She was pretty much family," Chase said about Madsen.
"I know I'll probably be thinking about her for a long time, for all the (Special Olympics) she's not able to do."
The Special Olympics Colorado Western Area Summer Games, an event Craig has hosted for more than 30 years, has been dedicated to Madsen.
The games, which include track and field and aquatics, begin about 9:15 a.m. Saturday at Moffat County High School, 900 Finley Lane.
Chase will be one of 24 athletes from Craig participating. The games will feature 110 athletes total from across the Western Slope, including 26 from Steamboat Springs.
The torch run begins about 8:45 a.m. at the Safeway parking lot.
Jim Herschberg, a member of the Craig Kiwanis Club and longtime games organizer, said the games are a "really important community effort" in Craig.
More than 50 people - about half of them Kiwanis Club members - volunteer at the event, and "almost every business in town" has supported Special Olympics at one time or another.
"The community welcomes Special Olympics here," Herschberg said.
"Long before I got involved in the event, Craig was setting the standard in Colorado for this event : and proudly we still are, I am told."
Dedicating the games to Madsen seems appropriate, he added.
"She was a very special individual," Herschberg said. "She just exemplified the spirit of Special Olympics and the local programs (such as Horizons Specialized Services)."
Herschberg said competition during the games also is something spectators will be able to appreciate.
"The level and purity of the sportsmanship at a Special Olympics event is really above and beyond anything you will see elsewhere," he said.
"The athletes, in some cases in spite of, and in other cases because of, their disabilities make an important contribution to their communities and are part of the local culture. Craig has embraced these folks and their families for decades and is a better place for it."
Chase's mother, Cheryl, has been a coach at the Special Olympics since her son began competing 14 years ago, at age 8. This year, she's helping organize the games rather than coach.
She said it's easy to root for athletes competing in the games.
"And not just Josh, but all the athletes," Cheryl said. "We're just one big family, truly. : You cheer for everybody as much as you cheer for your own child."
Like Herschberg, Cheryl said she is impressed with how well the local community supports the Special Olympics. When visiting with businesses in hopes of landing donations or sponsorships, she's always received positive responses.
"Nobody ever tells me no," she said. "They always give us something. : We have a really supportive community."
But, if there's one area the games can be improved upon, Cheryl said, it's in the stands. She said she'd like to some day see the stands at MCHS full of fans watching the athletes as they perform.
"I would like to see it one time as packed as it is at a Friday night football game," she said.
Joshua Roberts can be reached at 875-1791, or jroberts@craigdailypress.com.