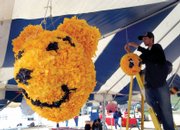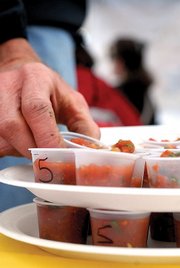 The Irish have St. Patrick's Day.
Italian's have Columbus Day.
German's have Oktoberfest.
These are days to celebrate heritage, not only for the people originating from those areas of the world, but for all to appreciate.
Cinco de Mayo is one of those holidays, a time to celebrate Mexican heritage and pride.
"Cinco de Mayo is a celebration full of joy and pride not just for Mexico and people of Mexican descent. This is a festival of real significance for all freedom-loving people throughout the Americas," Faith Lutheran Church pastor John Turner said during the opening prayer.
"I remember as a kid, back East, all of the different neighborhoods and ethnic groups, they always had a celebration, and everyone took advantage of it." Turner said after the prayer. "I think Cinco de Mayo is part of that same culture that we have, to say we absorb the good times."
This year's Cinco event was held at the Wyman Museum, and despite sometimes pouring rain, more than 200 people attended the event.
Events featured included music from Mariachi Regional De Mexico, of Denver, activities for children, a soccer tournament, a salsa competition and a children's piñata contest.
Food, beer and desserts also were available.
Tatiana Achcar, Integrated Community executive director, said that while having fun is great, she stressed the importance that an event like this is about the community.
"Our mission is to promote culture. The natural history too, the natural boundaries, because of that it makes sense to celebrate Cinco, to embrace different cultures to exalt the commonalities," she said.
Achcar said that is why celebrating Cinco at Wyman Museum is also of importance.
"The Wyman Museum symbolizes the history of the county from the native perspective of the western, North American pioneer. So the idea is to underline the history of the county and the town and how it's evolving and changing," she said.
The celebration of Cinco De Mayo is not a fundraiser in anyway for Integrated Community.
Any money raised at the event goes to paying for the event, and Achcar said that Integrated Community might take a loss to put it on.
But she said that it's an important event.
"To me, Cinco is a conduit. It's a cultural event, it's a community event, it's an opportunity to put together," she said
"Kids are kids, families are families, everybody likes to get together, everybody likes to eat, to listen to music, and that's what we try to bring out at an event like this, to get people to stand side-by-side."