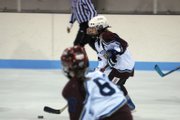 Skates with pink laces, helmets with protruding pony tales and sticks with pink blades aren't common on the ice at Moffat County Ice Arena.
On Saturday, the pioneers of girls hockey in Craig changed that with their doubleheader against Grand Junction.
"A lot of these girls play with boys in the house league," coach Tanya Ferguson said. "But, this is their first real chance to play just with girls."
On Saturday, the Craig Cougars lost to Grand Junction, 4-1, and, 3-2, in a doubleheader.
But, there weren't any hanging heads after the games.
"I scored the two goals in the second game, and she scored in the first game," a smiling Taylor Shrode said, acknowledging fellow scorer Emma Samuelson. "Win or lose, it was a lot of fun."
Samuelson seemed to be having fun. She would skate circles around her stick during stoppage. Before the second game, she jumped up and down on the ice playfully.
"We don't get checked in girls hockey," Samuelson said. "But, the puck still hurts and it's still people playing hard."
Ferguson, who has helped coach in the house league for seven years, said during the team's four games she has had to encourage her girls to play as hard as they would in the house league.
"A lot of these girls have grown up beating up on their brothers on the ice," she said. "But, sometimes then they are out there against girls, they aren't as aggressive. I yell, 'Pretend they're your brothers,' several times a game."
One encouraging sign about the future of girls hockey in Craig was that there were 17 girls suited up for the game.
"Overall, the numbers are down (in hockey)," Ferguson said. "But, girl numbers are up and as long as we have 15 girls who want to play, I'd like to make this happen."
Ferguson said she kept thinking of her experience coaching softball while on the hockey bench.
"One of the softball chants talks about how it's time to be tough," she said. "That's what I want to keep yelling."
One sign that there still is some room for development was that the Cougars had to recruit a boy, Riley O'Leary, to play goalie for them.
The word is that several girls are learning to play in the crease, but no one is game quite ready.
The two games Saturday were the first home contests for the Cougars.
They played on the road against Steamboat Springs and Grand Junction. They have yet to get a win. They nearly won the second contest Saturday with a 2-1 lead going into the third period.
"We couldn't hold them off," Breanne Willshire said. "But it was still fun to be out there with other girls."