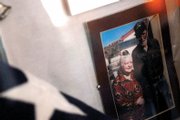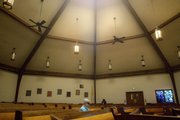 It's Thursday afternoon and quiet inside the chapel at St. Michael Catholic Church. Two women, on opposite sides of the room, are kneeled, and they whisper silently with their hands clasped.
Like clockwork, Craig resident Elaine Bradley steps inside.
It's about 12:30 p.m., which means Bradley's two-hour adoration shift is about to begin.
She takes her usual place among the pews, about half way down the aisle on the right side. She doesn't speak to the other two worshippers. Instead, she finds her rosary beads and begins her conversation with God.
Elaine, 76, hasn't been immune to life's difficulties. She has bore 14 children, lost a husband of 51 years and most of her vision 15 years ago to macular degeneration and diabetes.
With her children scattered across the state and her husband's presence reduced to a cherished photograph from decades ago, she now lives alone in a house near the church.
But, don't feel bad for Elaine.
She loves her children, sees them whenever she can and speaks about them constantly when she can't.
She is a member of the Red Hat Floozies, a Yampa Valley chapter of the Red Hat Society, attends Alter and Rosary Society meetings, Wellness Wednesdays and numerous other functions to stay busy.
She is lucky, she says.
"I'm very fortunate," Elaine said. "God takes very good care of me.
"I can't imagine how people who aren't religious survive. Who do you lean on? What happens? There are people so desperate, so depressed. I'm never depressed."
Still, life sometimes is hard.
Her house is quiet compared to her former home in Leadville, where she raised her children and lived with her husband.
To break the silence, she sleeps with her TV on, the noise drowning out the quiet.
And sometimes still, she reaches for a photo on a table in her living room. The picture is of her husband, her beloved Willard, and she talks to the photo she no longer can see.
She shows the picture to a visitor.
"Isn't he adorable?" she asks, her hazel eyes hidden behind black protective sunglasses, and a smile on her face.
Then she begins telling her story, or, more accurately, their story.
Love, actually
Elaine and Willard's wasn't a traditional romance.
On their first date, he took Elaine bowling. On their second, she watched him play softball.
"There was no going out, dinner, partying or anything," Elaine said, laughing. "I thought, 'Well, you know, this could be interesting.'"
After some time, they decided to get married. There was one problem: They weren't yet in love.
"I asked him if he loved me and he said, 'No, but I don't care if I love you or not. I want a wife and a family and a home," she recalled. "So, that's what we agreed to. So, we married."
A year went by, and something strange happened. What didn't exist at first, had grown between the two.
"After a year, we were deeply in love and after that, it was all good," Elaine said. "We were both trying to be good mates."
As parents, Elaine was the dreamer, and Willard the realist. Together, they instilled a fierce sense of independence in their children.
Their son, Mike, remembers it well.
"She had all these great ideas but needed dad," said Mike, who maintains his residence at the family home in Leadville. "It was kind of like Yin and Yang - both of them worked really well together."
They bought the Leadville home and added onto it and their family during the years.
"(Willard) was determined to add on to the house to make it big enough for a family," said Elaine, before adding a pinch of her wit. "Well, I added on to the family faster than he could add on to the house."
Life was good for Elaine and the family, and the years passed.
In 2001, things changed.
A number of health problems caught up with Willard.
Elaine would have to make a difficult decision while Willard was in the hospital.
It was a decision she still struggles with today.
"He was in the hospital for six weeks with me standing beside him," Elaine said. "They said, 'You must disconnect him, because he's suffering greatly, and he's not going to get well, and he isn't going to survive much longer.'
"Three of my sons were there and they all said 'Mom, we have to do this.' I said 'Alright, I'll sign the papers. I don't want any of you kids to have to live with the guilt.' : I carry that with me all the time. When I'm rationale, I realize it needed to be done, but god donnit, : We had been together 51 years, been together so long. : I would have given him some of my body if I could have."
'Always'
Elaine, who moved to Craig in 2007 to be closer to her daughter, Sue Bradley, lives quietly these days.
She leans on her faith, which she has had since early childhood. She doesn't question her creator, she said.
"You know, when I was 4 years old, my mother sent me off to this religious school for kids and I learned 'Oh, yes, Jesus loves me. Oh, yes, Jesus loves me,'" she said. ": That's when I discovered God and religion, and I have never doubted that there was a God or that Jesus was worthwhile and that they could take care of me.
"I never doubted it."
She goes to church at St. Michael four or five times a week, always in the morning. She bought a home within walking distance from the church.
It is yellow with brown trim, and it's adorned with a large American flag out front.
The flag is another tribute to Willard, who was in the Marine Corp during World War II, and displaying the flag is a tradition that Elaine has had for more than 50 years.
She is involved with "about nine different organizations," and she has people who drive her to places when she needs to get around.
And she recently has taken on a new project, a way to stay connected - calling people who are homebound, people who aren't lucky like she is and can't get around anymore.
"Maybe it's because I understand what it's like to be lonely," she said. "I try to cheer them up, to make them understand that somebody really cares about them."
She doesn't know if she succeeds, but that isn't important. That she's tried to share a little comfort with another person is what counts.
But, there are lonely moments, and in those, she picks up the photo of Willard that's always nearby.
It's weathered and the glass protecting it has been broken, leaving just the picture and frame.
It's one of Elaine's prized possessions.
"I still talk to him," she said.
"I wander around the house and talk to him sometimes. And yeah, he was very important to me for a lot of years," Elaine said. "And : that's the best I can do with him. I joke (that) I want an 80-year-old man. I told him on his deathbed, 'I'm your wife and I'll always be your wife.' And that's the way it will be.
"Always."