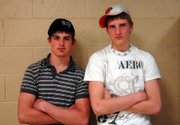 Breslin to attend Bacone College in Oklahoma
Moffat County High School senior Jesse Breslin will sign a national letter of intent today to attend Bacone College in Oklahoma.
Breslin was offered a wrestling scholarship after visiting the NAIA school during spring break.
"I had a lot of fun on my visit, and I really liked the school," Breslin said.
Breslin, who finished the 2008-09 season with a 40-10 record, was named to the 4A Western Slope League all-conference team and captured the MCHS most improved wrestler award during the MCHS team banquet Wednesday night.
Going to college "is going to give me a chance to keep improving," Breslin said. "I'm going to see how good I can get and how I measure up with some of the best wrestlers in the country."
Breslin said he's excited to take his skills to the next level, but he also will miss being a Bulldog grappler.
"I'm going to really miss the coaches," he said. "For the past six years, they have been the guys who have made me better. It's going to be weird to hear someone else's voice."
2009 letterman
Ben Winslow
Nathan Tomlin
Todd Stewart
Halen Raymond
Cody Nelson
Scott Mann
Matt Linsacum
Charlie Griffiths
A.C. Crofts
Kye Adams
Cody Adams
Troy Vernon
Jesse Breslin
Jana Brown (trainer)
Kirstin McAlexander (trainer)
2009 Most Pins award: Cody Nelson (24)
2009 Most Improved Wrestler award: Jesse Breslin (40-10)
Moffat County wrestling coach Roman Gutierrez stood at the head of the high school's common area with a somber look on his face and a serious tone to his voice.
It didn't last long.
Halen Raymond whispered jokes while Jesse Breslin and Troy Vernon shared a few laughs.
Charlie Griffiths, usually quiet and composed, even cracked a smile.
Gutierrez deemed the 2008-09 season a "down year," but at Wednesday night's annual awards banquet, nobody in attendance seemed to notice.
The banquet wasn't as much about reflecting on the year gone by, but more about getting ready for the year ahead.
"We are going to keep working to get better," Gutierrez said. "I hate the word rebuilding. It used to be that we would just reload every year, but now, we are going to have to focus on rebuilding."
Although the 2008-09 season was the first in the past 22 years without a Bulldog state placer, the team's 27 dual meet wins this year is second-most all time in Colorado high school history, trailing only the 28 recorded by the 2001-02 and 2004-05 MCHS squads.
And in the second-to-last meet of the season in Rifle, Gutierrez picked up dual meet win No. 377 (he finished the year with 379), to take over the top spot in career coaching wins in state history.
But, none of that seemed to matter to the five-time state championship wining coach.
He wants 500.
"We are going to have to make some sacrifices if we want to get back to where we were," Gutierrez said. "These kids will only experience high school wrestling once, and we are out to give them the best opportunity to succeed."
The Bulldogs battled injuries throughout the season, which Gutierrez said hurt the team in the long run.
"We definitely got bit by the injury bug this year," he said. "We had to shuffle in some of the younger kids that really shouldn't have been put in that type of situation. But, kids stepped up and the younger guys got some valuable experience."
Seniors Troy Vernon and Jesse Breslin will be moving on, and six new seniors - A.C. Crofts, Nathan Tomlin, Matt Linsacum, Scott Mann, Todd Stewart and Halen Raymond - will be leaned upon to guide the Bulldogs into the future.
"We are going to expect a lot from those six seniors next year," Gutierrez said. "We need them to be leaders and push us to the next level."