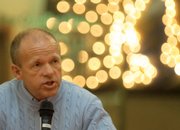 If you go
What: Craig City Council meet-and-greet session
When: 5 to 6 p.m. Friday
Where: Downtown Books, 543 Yampa Ave.
• The meet-and-greet is open to the public. Light refreshments will be served. For more information, call Terry Carwile at 824-3108
Craig — Craig City Council candidates fielded questions ranging from the area's methamphetamine problem to building a recreation center during a candidate forum Wednesday night at Centennial Mall.
More than 30 people attended the forum, which was sponsored by the Craig Daily Press and KRAI.
Incumbent City Councilors Gene Bilodeau and Terry Carwile, and hopefuls Joe Bird, Francisco Reina and Jennifer Riley answered questions in the second of three candidate events scheduled for the week.
Councilor Byron Willems was out of town.
The first question of the night was about the current relationship between the Moffat County Commission and the City Council.
Riley said the relationship between the two governing bodies is good but could be better.
"I think the relationship is good right now, but there's always room for improvement," Riley said. "I think the county and the city have a different philosophy when it comes to governance, but I think with an open line of communication we can have a better relationship."
Carwile said the council and the commission should focus on working together because both serve the people of Craig.
"I don't think there should be distinct lines between the county and the city," Carwile said. "Craig is the seat of Moffat County, so there should be more communication because a lot of what we do is focused in the same community."
The main topic of a forum Monday was the possibility of a recreation center in Craig. The recreation center issue came up again Wednesday.
Bilodeau said a recreation center could help with other problems in the community, but securing funding would be almost impossible.
"I definitely think it comes down to a matter of funding, but I think a recreation center would help," Bilodeau said. "I see a problem in our community with methamphetamine abuse, I see a problem in our community with teen drinking, I see a problem in our community with teen pregnancy, and I think that having a recreational facility would help with all of those because those kids would have somewhere else to be.
"I'm a firm believer that healthy people make healthy decisions."
Reina disagreed with Bilodeau, saying the community had plenty of recreation opportunities without a building.
"No way," Reina said. "Craig needs more unity and support, we don't need a rec center.
"We have soccer fields and open land - it would be a waste of money and time."
The candidates were asked about the current planning and zoning regulations and whether they helped or hurt the city's growth potential.
"Yes, I think we need to make changes to streamline the process," Bird said. "We need to make sure that it's the same for everyone and that it's as quick and easy as possible. That's how we're going to attract new business."
The candidates were asked whether Communities Overcoming Meth Abuse and Grand Futures had helped to curb meth abuse in Craig and whether the city should take on an expanded role.
"I think COMA and Grand Futures have helped eradicate some of the problem, and the city definitely plays a role there, too," Riley said. "We've seen some products removed from our grocery stores. And it's been a joint effort between city, county and state."
Another topic was how Craig could attract visitors from Steamboat Springs and Meeker.
Bird said the city's efforts to bring in visitors should focus on its people.
"The Chamber of Commerce has spent a lot of time and effort on its Web page - getting visitors and hunters signed-in and familiar with Craig before they come here," Bird said. "We have pamphlets at the airport showing all of the activities you can do in Craig, but we need to focus on the good people here - that's where we shine above the rest."
Craig Mayor Don Jones, who also attended the forum, is running an unopposed bid for his third and final mayoral term.
The remaining six candidates are vying for four positions.