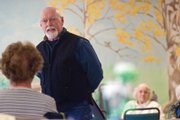 Although only about half of the field attended, Craig City Council candidates met Monday afternoon in the first of three forums scheduled for the week.
City Council candidates Joe Bird, Terry Carwile and Jennifer Riley, and mayoral candidate Don Jones spoke to more than 20 visitors during a forum sponsored by the Craig AARP Chapter 1418 at Sunset Meadows I. Candidates Byron Willems, Francisco Reina and Gene Bilodeau did not attend.
The discussion covered a wide range of topics, including federal stimulus money, increased vehicle registration fees and a request from the Moffat County School District for financial assistance to build an auxiliary gymnasium.
The gymnasium question was a recurring issue among voters Monday.
School district officials have asked the city for $365,000 to fund a second, full-size gymnasium at Craig Middle School. The asking price increased from its original estimate, $150,000.
To be able to support city programs, the second gymnasium needed additional space.
After tabling the proposal March 11, the City Council is scheduled to make a decision about the request during its meeting tonight.
Bob Grubb asked whether adding a larger gym potentially could hurt the city's chances of having a better facility down the road.
"There has been talk that by adding 20 feet to the gymnasium it might squelch the larger rec center development," Grubb said. "If it goes through, do we wind up out of a rec center?"
Riley said adding a full-sized gym would hurt the argument for a recreation center.
"I think it does hurt the chances of adding a recreation center to the city," Riley said. "It would take away some of the need."
Adding extra gym space to the proposal would be good for the city, Jones said, but the manner in which the school district sought the extra funds has been unsettling.
"No one doubts the need for gym space," he said. "But, what started at $150,000 went to $270,000 to $360,000 in two weeks, and I know that it didn't set well with a number of the city councilors."
The city currently has a $651,000 surplus from savings from departments, road repairs from last year's budget which were carried over, and money set aside for equipment upgrades, Jones said.
"It's all money that the city could use," he said.
Funding a recreation center creates problems, Bird added.
"The population would need to increase to be able to support the rec center," he said. "We would hate to have to go out and hire personnel, go into build the building, then have it sit and be empty because no one is using it."
Grubb asked if there still would be space for a recreation center if the city's population doubled.
Carwile said that land wasn't the issue.
"We have the land," Carwile said, adding that Colorado Northwestern Community College has given land to the city to use for a recreational center. "But, figuring how to pay for it is the crux of the problem."
Asking voters to approve a recreational center would be difficult, Riley said.
"There would need to be an increase in the sales tax, which I don't think the taxpayers could take, especially given the economy," Riley said. "Does that take (the recreational center) off the table? Possibly, because it wouldn't be able to fund itself through membership fees."
Despite the price, the need for a community gym still exists, Jones said.
"If there was an additional 20 feet, then parks and recreation could have two more games at the gym, instead of one at a full length court," Jones said. "Right now, it's a 40-by-50 foot playroom.
"At the time, it looked like we could do a whole lot with an auxiliary gym, but as time went on, it looked like we needed a full-size court. But, hindsight is 20-20."
Another question raised during the forum was in regard to stimulus funding.
Beverly Chapman, Craig AARP president, asked the candidates how Craig and Moffat County could acquire money from the American Recovery and Reinvestment Act.
Carwile said there were several ways Moffat County could receive money for infrastructure repairs and upgrades.
"Several mechanisms exist - there are block grants the city can apply for, and existing government departments that will filter the funds to the local level," he said. "If there are bureaucratic road blocks, we need to fight to get money."
"We might just need to yell the loudest," Chapman replied.
Referencing Senate Bill 108, which increases the average car registration fee by $32 beginning July 1, Chapman asked if the increase in fees could help fund infrastructure improvements.
"With the increase in our tag prices, are we going to see any money for our roads out here?" Chapman asked. "Or is all of it going to go to projects on the Front Range?"
Despite the increase, it's unknown how much money Craig would receive, Riley said.
"Most of the money will go towards infrastructure," she said. "But, I'm not sure how much of it will come back to us."
The City Council election is April 7.