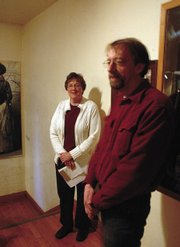 Museum seeks works for exhibit
Cowboys and artists will share the spotlight at an upcoming exhibit at the Museum of Northwest Colorado in downtown Craig.
The display, slated to open in May, will highlight works by Western artists from the early 20th century.
Museum director Dan Davidson would like to extend an invitation to anyone who might have a painting by an early 20th century artist to consider loaning that piece for the upcoming exhibit.
For more information about this exhibit, or if you have a piece which you think might work for the display, call the museum at 824-6360 and speak with Davidson or Jan Gerber.
There are many ways the Museum of Northwest Colorado displays what life was like in the Old West.
There are black and white photographs of the founders and first settlers in the county, spurs, guns, saddles, ancient mining equipment, arrowheads and journals.
This spring, the museum will present another form of recorded history in Moffat County:
Paint.
The museum has been collecting art from Craig's history to show how artists interpreted the Old West.
Although the exhibit is in the early planning stages, Dan Davidson, director of the museum, said the final product would focus on Craig and Moffat County.
"What we're trying to do is make the exhibit as local as possible by finding these paintings or images that show how life in Moffat County was in the early 1900s," Davidson said. "We're trying to show how it was from a painter's perspective."
The exhibit will feature paintings from Gerard Curtis Delano, Paul Gregg, Joe Mora, and possibly a Frederic Remington, said assistant museum director Jan Gerber. Prints from Arthur Roy Mitchell and Frank Tenney Johnson also will be displayed.
"It will be Western-themed art from the turn of the century to the 1910s, '20s, '30s," Gerber said. "There will be some originals and some prints in the exhibit, as well."
The work of Delano has a special tie to Craig, and its history, Davidson said.
"One of the reasons we want to feature Delano is because the Cosgriff Hotel, which was a major hotel in Craig for many years and was really well known, had a Delano exhibit from 1958 to 1978," he said.
"A lot of people from this area would have seen, or at least heard of some of the pieces we hope to bring back to Craig."
Davidson said a number of the painters came to Northwest Colorado and Moffat County from back east to live the lifestyle of their subjects.
"Some of these artists worked on ranches and lived the life of a cowboy," Davidson said.
Frank Tenney Johnson worked at a ranch outside of Hayden, where he painted images from his newfound lifestyle.
"Russell came from the east, and he came out West to record history," Davidson said. "He wanted, like many of the other artists of his time, to live that western lifestyle."
Davidson said there were many pictures of Moffat County painted from 1900 to 1908, but tracking them down a century later was difficult.
"We actually have paintings from (founder of Craig) William Bayard Craig's great-granddaughter on loan," he said. "We've been trying to track down some of the Delano work that was originally in the Cosgriff, but it's proving to be more difficult than we thought. We don't know if some of it is in Wyoming or Texas."
The museum currently has several pieces from sculptor Alexander Phimister Proctor depicting landscapes and scenes from Routt and Moffat County.
"Was he the best painter in the world? No, probably not," Davidson said. "But, he did have a number of paintings featuring Main Street Craig from 1900 to 1908."
It's not very often that the museum is able to feature an art exhibit, Gerber said.
When paintings or prints are brought in, they usually rest on the walls for upwards of a year.
"We'll be taking down all of the art from the Centennial Exhibit to put up the new art," she said.
It won't be just a wall of art, however, Davidson said.
Paintings will be paired with chaps, boots, cuffs, spurs, holsters, guns and hats because, as Davidson said, not all art from the turn of the century was on a canvas.
"There's leather work and horse hair weaving and other kinds of art," Davidson said. "When you look at the engravings on some of the guns, it truly is art."
The yet to be named exhibit opening is scheduled for May 24, and it will run through at least the end of the year at the museum, 590 Yampa Ave.