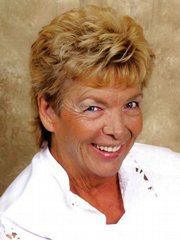 Craig — We love our little town of Maybell.
It doesn't have skyscrapers or movie theaters, and we don't even have one single traffic light. We have things that are far more important, however, such as real live deer and other kinds of wildlife in the front yard, a fun park where lots of fun things happen, and best of all, we have super, wonderful, caring people who live here. We are privileged.
OK.
What is one of the things that Maybell looks forward to? Yep, hunting season.
Usually the park is so packed with hunters, tents, campers, trucks and gear that anyone else wanting to camp there needs to bring his or her own piece of sod to park on.
Some years ago, a few of the local "boys" (we won't name names, because the people who matter already know) got together with a bright idea of welcoming and surprising all the hunters. (Now how many big towns would even think about welcoming strangers and making them feel wanted?)
This particular season, the park was so packed that you wouldn't even have been able to put another piece of sod in there. So the boys patiently waited : and: waited : and when it was finally time, went to work.
They very quietly sneaked around to every vehicle in the park and let the air out of their tires, and as a last finishing touch, pulled the chains across the park entrances and locked everyone in. What a "show of love" it was, letting all the hunters know how appreciated they were and that nobody wanted them to leave. Awesome, just awesome.
Guess what happened when opening morning of hunting season appeared at dawn's early light? You don't even want to know. There was such an uproar going on in the park that I'm surprised the noise wasn't heard clear into Craig. There were mad hunters running everywhere. I guess they didn't want to be protected and cared about.
Someone, somewhere, heard the noise though. It wasn't too long after the screaming and cussing began that several "fathers" showed up at the park with compressors and went to work airing tires back up.
I realize that lots of hunters spent big bucks for licenses and gear and gas to get here and therefore, yes, it made them angry when they realized what had happened. But, I'm sorry, every time I picture this whole scene in my mind, it tickles my funny bone, and I can't help but giggle.
No harm was done other than the hunters were just delayed a bit from rushing to their favorite hunting spot. Look on the bright side. Everything happens for a reason.
Perhaps that little delay prevented a hunting accident somewhere. I hope that later the hunters realized the joke and that they too laughed.
I can almost guarantee you that all these hunters never experienced an adventure anywhere else in the whole world like the great memorable time our boys gave them. And the hunters are probably still talking about it to their friends, relatives and grandkids.
"Hey, buddy, let me tell you about the greatest hunting trip we ever took :" It certainly doesn't appear to have kept hunters from returning, as evidenced by all the vehicles, campers, motorhomes and tents that still appear every hunting season.
Yes. We love our little bitty town.
When we hear others putting us down and scoffing and remarking about "that Maybell," we just put our hands over our ears. Because we know it ain't true.
We don't care what others think about Maybell. So if people who don't matter don't like our little town, that makes us happy, because it keeps our little town from growing into a big town and we prefer to keep it little.
We just have too much fun here.