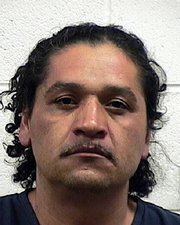 Craig — One of 11 Mexican nationals arrested almost a year ago on suspicion of drug distribution charges now will serve prison time after being arrested last month.
Armando Zavala-Flores, sentenced to a suspended one-year prison term in July 2008, now will serve the remainder of his time after being arrested Feb. 7 in Routt County.
Zavala-Flores, 38, was one of 11 Mexican nationals the All Crimes Enforcement Team, a local multi-agency taskforce, arrested March 25, 2008, in Craig.
Law enforcement officials said at the time the men were suspected of being involved with one of Northwest Colorado's biggest drug trafficking organizations, as well as Mexican organized crime.
Zavala-Flores pleaded guilty in July 2008 to one count of possession of a Schedule 2 controlled substance, a Class 6 felony, and was sentenced to pay $2,525 in fines and costs and serve a one-year prison term with the Colorado Department of Corrections.
Michael O'Hara, chief judge for the 14th Judicial District, ordered the prison term be suspended so Zavala-Flores could submit to the judgment of an Immigration and Customs Enforcement hearing, which found he should be deported to Mexico.
O'Hara also stipulated that should Zavala-Flores return illegally to the United States, he would immediately serve the remainer of his prison term, minus 127 days he spent in Moffat County Jail.
Local officials did not hear about Zavala-Flores after his conviction until he was arrested in Routt County under suspicion for driving while ability impaired, a misdemeanor charge for driving with a blood alcohol content between .04 and .08.
At a hearing Tuesday in Moffat County District Court, Judge Shelly Hill found Zavala-Flores guilty of re-entering the country illegally and sentenced him to the remainder of his prison term, plus one-year parole.
Deputy District Attorney Jon Pfeifer said ICE officials testified Zavala-Flores was ineligible to apply to legally re-enter the country for 10 years because of his felony conviction, therefore he could not have been in Routt County legally.
Pfeifer said he did not know what would happen with Zavala-Flores' driving arrest but added that all misdemeanor sentences must run concurrent with any state prison term.