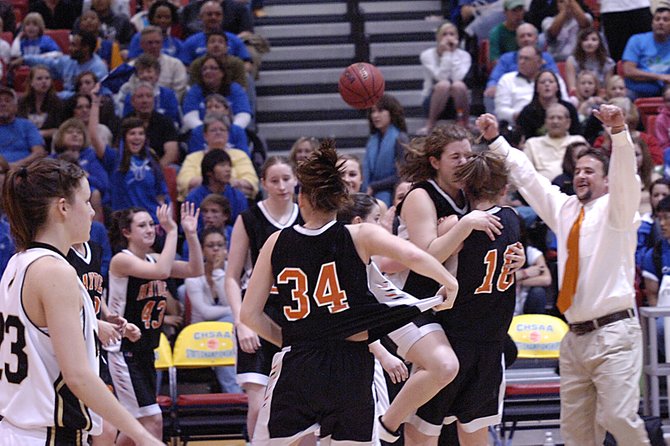 Tigers girls cap best season with 3rd at state
Game statistics
Class 2A girls basketball state tournament, Saturday in Pueblo
Hayden 42, Meeker 40
Team: 1, 2, 3, 4, Final
Hayden: 12, 8, 13, 9, 42
Meeker: 4, 13, 11, 12, 40
Hayden - Koehler 3 2-2 8, Salazar 5 2-3 12, Cromie 1 2-2 4, Mahanna 1 0-2 2, VeDepo 0 2-2 2, Rolando 3 0-0 6, Woodley 1 2-5 4, Sweetser 1 1-2 4. Totals: 15 11-16 42.
Meeker - Shriver 1 0-0 2, S.Cook 2 2-4 7, Kindall 9 4-8 22, Kendall 1 1-2 3, Fitzgibbons 0 0-2 0, M.Cook 2 2-5 6.
Totals: 15 10-21 40.
3-pointers: Hayden (1) - Sweetser.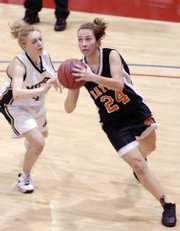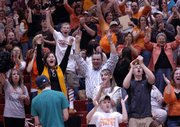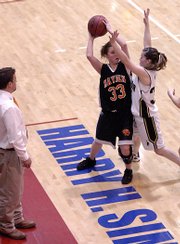 Pueblo — The tears flowed from puffy red eyes Friday night as the Hayden High School girls basketball team walked away from the court in Pueblo's Massari Arena.
The Tigers walked away from a brutal defeat in the Class 2A girls state tournament semifinals, and they walked away from long-professed dreams of winning a state championship.
All those tears were forgotten Saturday in just 46 seconds.
Hayden sophomore Delanie VeDepo made a pair of free throws with 46 seconds remaining, the first to tie the game at 40 and the second to help lift her team to where no Tigers have gone before.
Hayden survived a back-and-forth, heart-stopping game to beat Meeker for the third time this season, 42-40, and to secure third place in the state tournament.
"This makes up for Friday," senior Holli Salazar said, grinning widely outside the locker room just after the game. "A little bit, anyway."
The win pushes an already impressive run up a notch. Last week, this season's Tigers became the first Hayden girls team to make the state tournament when it won the regional. Saturday, it became the first Hayden team to place at state, and the girls celebrated long and loudly, lifting the third-place trophy high.
The shouts and screams of victory didn't die down until after the team had been in the locker room for five minutes.
"The girls and everyone, we are elated to win a game like that," first-year Hayden coach Eric Hamilton said. "With these seniors and this team, it's perfect for it to finish with a win like that."
Tigers earn stripes
Hayden had to earn the right to that sort of celebration. The game was the fourth between the two schools. Hayden held a 2-1 advantage on the season but still had something to prove. Meeker dominated in a rout several weeks ago.
On Saturday, Hayden maintained control for most of the game. The Cowboys pieced together a vicious second-half run, however, and in the end, it was Hayden looking for clutch shots to regain the lead. It got those shots from underclassmen.
VeDepo sank the two most important free throws of the season, then junior Jarah Woodley gave her team a little breathing room with 5.8 seconds left by making one of two attempts to set the final score.
"My heart skipped a beat," VeDepo said about watching the tying free throw dance on the rim. Her bid to take the lead swished through.
Hayden's underclassmen had no choice but to step up - they were about the only ones left with an opportunity to do so.
Salazar led the team with 12 points but fouled out midway through the fourth quarter. Senior Caitlin Mahanna, the team's starting point guard, also missed the heart-pounding drama of the last minutes of the season. She injured her ankle early in the final quarter and was helped off the court by arena medical staff.
No comparison
Hayden's state title hopes were shattered Friday night as Paonia dominated the semifinal game with a full-court press.
Saturday, Hayden dictated the pace against Meeker. The rebounding difference evaporated and Hayden flew to a 14-3 lead in the second quarter.
The Tigers took advantage of Meeker's fouls and hit 11 of 16 free throws.
Salazar and junior Rachael Koehler each hit two early in the third quarter, then Koehler had a shot bounce in, and Woodley made one of two free throws to give the team another big lead, 29-19.
"We played hard on defense and didn't turn the ball over as much," Salazar said. "We just hustled a lot more."
Meeker, led by Janae Kindall's game-best 22 points, charged back and took a one-point lead with 51 seconds remaining.
In several possessions in the last 30 seconds, Meeker never was able to answer VeDepo's free throws.
"It feels good," Salazar said, reminded of the season's groundbreaking status in Hayden history. "We're not compared to anyone. Everyone will always be compared to us."