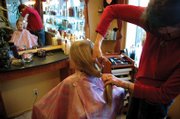 What started more than a year ago ended in a few seconds with the snip of a pair of scissors. More than 10 inches of blond hair, held together with a black rubber band, was the only thing left after one year of dedication.
Dentist Wendy McCreight, 44, of Steamboat Springs, began growing her hair in honor of her friend, Debbie Sherman-Hurst, of Craig, to donate it to Locks of Love. Sherman-Hurst died of breast cancer in July 2008. McCreight's 9-year-old daughter, Hannah, decided to join her mom and grow out her hair for the first time.
"We decided a year-and-a-half ago to grow out our hair in honor of Debbie," McCreight said. "After Debbie died in July, we decided to keep growing our hair in her memory."
On Friday, Wendy and Hannah had 10 inches of hair cut by Chanel Caughy at Styling in Steamboat salon.
Locks of Love uses donated human hair to make wigs for cancer survivors. Most of the recipients of the wigs are children who have lost their hair because of chemotherapy.
"It was a tough commitment," McCreight said about growing her hair out. "I'd wake up and look at it and have to brush it. It took some willpower not to just come in and have it cut all off."
Sherman-Hurst worked as a hygienist in the McCreight Progressive Dentistry office in Craig for 10 years. During that time, she became one of McCreight's close friends.
"She was one of the most dedicated and loyal team members we've had," McCreight said. "She was so dedicated to her patients, right up to the end."
Five months before her death, Sherman-Hurst went through treatments and surgeries thatWendy said were difficult for her friend.
"We went through it together, like a family," she said. "Our team really is more like a family."
Wendy said she remembered when Sherman-Hurst was first diagnosed and how after her first fight she thought she was done with treatment.
"She then got diagnosed again with breast cancer that was different and more aggressive than the first."
Despite her cancer, Sherman-Hurst still came in to work at a level McCreight was used to.
"Her last day was difficult - to me, she showed more dedication and tenacity despite her treatments than most people show all the time," Wendy said. "She would have chemo at the beginning of one week and be at work the beginning of the next week, and be there 100 percent."
One of the inspirations for Wendy to donate her hair was the wig that Sherman-Hurst wore while she was going through treatment.
"Back in '02 when Debbie first came in, she had a synthetic wig that didn't look good," Wendy said. "After she had a nice wig, she was a completely different girl.
"She had several different wigs: one that was down past her shoulders that was like her natural hair," Wendy said. "She also had a shorter wig, and one they called 'the Racquel.'"
The hair that was cut on Friday will be put in a bag and shipped to Florida, where Locks of Love is based.
Caughy, the stylist, said she is familiar with the organization.
"Last year, we had about 25 or 30 people come in and donate hair for Locks," said Caughy, who cut Wendy and Hannah's hair for free. "We've done this before."
Wendy said she would grow her hair out again only if Hannah did too.
"I probably would do it again," she said. "It's just about making time. I would have to do it with Hannah, though. It was much more fun doing it together."
For Hannah's schoolmates, the new look will come as a shock.
"I didn't tell anyone," Hannah said about her shorter style. "I wanted them to be surprised."
Wendy's son, Jackson, will be surprised too.
"He's 2 years old and he's only seen me with long hair, so it should be interesting to see his reaction," Wendy said.
In addition to growing out her hair in the memory of Sherman-Hurst, Wendy also was thinking about her mother when she had it cut.
"She is a 39- or 40-year survivor of breast cancer," she said. "So Locks of Love is close to our hearts in many ways."
For more information about Locks of Love, visit www.locksoflove.org.