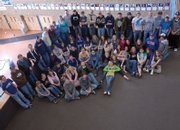 Today
1 p.m. Unicyclists meet at Alice Pleasant Park. Call Kevin Morris at 824-1703.
2 p.m. The Augusta Wallihan Chapter of the Daughters of the American Revolution meet in the Museum of Northwest Colorado, 590 Yampa Ave. Visitors are welcome. Call organizing regent Shannan Koucherik at 824-9518.
6:15 p.m. American Legion Post 62 hosts bingo at the Elks Lodge, 43 W. Victory Way. Doors open at 5 p.m. Games begin at 6:15 p.m.
Sunday, March 15
1:30 p.m. The Veterans of Foreign Wars hosts bingo at the VFW Hall, 419 E. Victory Way. For more information, call Dave Walters at 824-2923.
7 to 9 p.m. Adult coed open soccer takes place at the Boys & Girls Club of Craig, 1324 E. U.S. Highway 40. Flat tennis shoes and shin guards are required. The cost is $2 per player. Call Bill Sawer at 824-0116.
Monday, March 16
Noon. Al Anon meets at First Congregational United Church of Christ, 630 Green St., in the library, for relatives and friends of alcoholics and addicts.
5:30 p.m. The monthly meeting of the Moffat County Libraries Board of Trustees takes place. at the Craig branch, 570 Green Street. The meeting is open to the public.
5:30 p.m. The Craig Planning and Zoning Commission meets for a work session at Craig City Hall, 300 W. Fourth St. The commission's regular meeting begins at 6 p.m. Call Dave Costa at 826-2013.
6 to 9 p.m. The Colorado Division of Wildlife sponsors a hunter education course at Colorado Northwestern Community College in Craig. All five classes must be attended. Class size is limited to 40 participants. Pre-registration is required. Completion of the Internet Hunter Education Course also will be offered during this time. To pre-register, or for more information, call 272-3238 or 824-7848.
6:30 to 8:15 p.m. "Pulse," a New Creation Church youth group, meets at the Centennial Mall, 1111 W. Victory Way. Youths ages 11 to 18 are welcome.
7 p.m. Fellowship Group of Alcoholics Anonymous meets at 419 Yampa Ave. Call 326-6646.
Tuesday, March 17
8:30 to 11 a.m. The Moffat County Commission meets at the Moffat County Courthouse, 221 W. Victory Way. The meeting is open to the public. Call 824-5517.
9 a.m. Daffodils will be on sale for $5 a bunch at City Market, Safeway and the VNA offices in Craig and Steamboat Springs, as well as Alpine Floral, The Clark Store, Bamboo Market and The Hayden Mercantile, as part of the annual Daffodils for Hospice fundraiser. Funds raised through the sale help to provide hospice care for terminally ill patients in the Yampa Valley. For more information or to volunteer, call the VNA at 824-8233 in Craig.