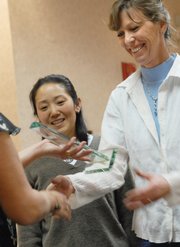 United Way award winners
Moffat County United Way presented 29 awards at its third annual awards luncheon Thursday at the Holiday Inn of Craig. The winners were:
2008 Agency of the Year
• Northwest Colorado Dental Coalition
United Way contributors:
• Twentymile Coal Co. - $118,650 ($85,242 to Moffat County)
• Colowyo Coal Co. - $83,518
• Tri-State Generation and Transmission - $75,452
• Trapper Mining Inc. - $56,198
• Xcel Energy - $64,189 ($33,212 to Moffat County)
• Moffat County School District - $22,385
• Craig Daily Press - $18,616
• The Industrial Co. - $16,880
• City of Craig - $16,739
• Moffat County - $13,570
• The Memorial Hospital - $11,527
• Qwest - $7,500
• Mountain West Insurance - $5,250
• T & H NAPA Auto Parts - $5,000
• Yampa Valley Bank - $4,296
• Cook Chevrolet - $3,980
• Northwest Colorado Visiting Nurse Association - $3,380
• Bank of the West - $2,880
• Yampa Valley Electric - $2,543
• United Parcel Service - $2,540
• Atmos Energy - $2,265
• Wagner Equipment Co. - $1,556
• First National Bank of the Rockies - $1,291
• Bank of Colorado - $1,160
United Way board members:
• Robin Knoche, leaving after 12 years
• Rena Olsen, leaving after seven years
• Sandra King, leaving after six and a half years
United Way also recognized KRAI/55 Country and the Daily Press for donating thousands of dollars in advertising during the campaign drive in fall 2008.
Leann and Manuel Sanchez watched their daughter, 5-year-old Aliyah Schmidt, play with toys Thursday in the waiting room at the Northwest Colorado Dental Coalition.
Her brother, Dylan Schmidt, 9, was in the back getting some cavities filled.
The Dental Coalition is the only clinic the couple can afford, Leann said.
"They address the needs of children that don't have private insurance," Leann said. "My kids, since the time they were babies, have come in for regular check-ups. A lot can happen to them if they're not taken care of, and we want to make sure that happens."
The service the organization provides to low-income families such as Leann and Manuel's was the basis for Moffat County United Way recognizing the Dental Coalition on Thursday afternoon.
United Way named the Dental Coalition as its agency of the year during its third annual awards luncheon at the Holiday Inn of Craig.
The Dental Coalition is the only dental clinic that allows patients in Moffat, Routt, Rio Blanco, Jackson and Grand counties to pay on an income-based sliding scale, Executive Director Janet Pearcey said.
It also is one of the few on the Western Slope that accepts all forms of insurance, including Medicaid and CHP.
In 2008, 951 patients came to the Dental Coalition, and Pearcey expects that number to increase as long as the economy continues to struggle. More patients are losing their dental insurance and are unable to pay, even through the clinic's sliding scale, Pearcey said.
According to the U.S. Census Bureau, 24 percent of Moffat County residents had no dental insurance in 2005.
"There's going to be a drastic difference when they do the new one because things have gone so far south," Pearcey said.
But don't call the Dental Coalition's service a charity.
"Dentistry is very expensive," Pearcey said. "There's a lot of people that work very, very hard that cannot afford dental work. We're just here to fill the gap."
Pearcey's sentiment is what keeps Dr. Dana Fujita, the clinic's only full-time dentist, commuting from Steamboat Springs every day to work in a community clinic instead of a more profitable private practice.
Fujita said she didn't always see herself in such a position, though. Even when she worked at the Dental Coalition part time from July to December 2007, she said she didn't intend to take the clinic's open dentist position.
"Initially, I had the idea of owning my own practice and being in private practice : to eventually buy something or buy into something and become a partner," she said.
After working with the children at the clinic, however, Fujita found her calling in an unexpected place.
At the clinic, she can treat people who would have been turned away at other offices, and educate families about better health practices for their children.
Education is the clinic's toughest struggle, Pearcey and Fujita said.
"I think the general public thinks it's only their teeth," Pearcey said. "It's like people who chew or smoke. They have a mindset that kind of makes up their behavior. A lot of our families go from crisis to crisis because they don't get that preventative care."
Sometimes, though, there's not a lot Pearcey can ask of people.
"Some families have such bigger issues that the toothache in the back of their mouth isn't on the top of their priority list," she said.
Such are the circumstances of Leann and Manuel.
The couple regularly makes their children see a dentist because they know how important it is, but they don't have money for themselves, Leann said.
Theirs is one of many cases that Pearcey and Fujita point to when discussing the community's need for affordable dental care.
"We seem to be getting busier and busier, and that's a pretty good indicator of the need," Fujita said.