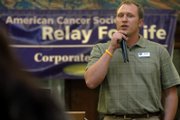 When Tammie Thompson-Booker was a senior in college in 1991, the last thing she was thinking about was cancer.
She was ready to go into the Peace Corps and start her life.
But Thompson-Booker was diagnosed with thyroid cancer before she could leave school.
"I went in for a routine physical and the next thing I knew, I woke up in a ward full of bald people," Thompson-Booker said.
Her story was one of many tales of survival shared during Relay for Life's kick-off event Wednesday night at the Centennial Mall. More than 30 people attended the first function before the Relay to sign up a team or to hear one of the guest speakers.
"Mostly, I don't think of myself as a survivor," said Thompson-Booker, who will walk in her third Relay for Life this summer. "I think about my family - my mom had ovarian cancer, and my grandmother had breast and bone cancer."
The kick-off event was in preparation for the July 17 Relay for Life event planned at Moffat County High School track.
Relay for Life is an all-night fundraiser for the American Cancer Society. Participants find sponsors and walk around a track to raise money.
Jeremiah Herman, community relationship manager for Relay for Life, said all of the money collected would help in one way or another.
"The money goes to the American Cancer Society for cutting edge research, for education and to support advocacy on Capitol Hill," Herman said, adding that the recent 62 cent hike on tobacco products was to fund research and legislation for the American Cancer Society.
Herman said he, too, is a cancer survivor, and he participated in his first Relay in Durango.
"I started doing a lap in the survivor's lap, and I just kept walking," he said. "And I went back the next year, and the next six years."
Event chair Ken Prescott said he has participated in 50 Relay for Life events, but the one in Craig was special.
"Last year, we beat our goal by $40,000, and we know we can do that again," Prescott said. "There's a lot of community support here in Craig, and the people are all about taking up the fight."
The fundraising goal last year was $65,000. The amount raised was $105,000, which is the goal for 2009.
"What most people don't understand is that two-thirds of the types of cancer are preventable through not smoking, eating healthy, exercising and getting regular medical check-ups," he said.
This year, Herman said, the goal is to have 50 to 60 teams of eight to 15 members walking around the MCHS track from 6 p.m. to 8 a.m..
"We want to have 50, 60, 70 teams or 400 people out walking the track for the night," he said. "We want to make this a community event."
Prescott said that about 95 percent of Americans have family that has been diagnosed with cancer.
"I started with Relay for Life after my ex-wife was diagnosed with Hodgkin's Lymphoma, and I know a lot of people have a similar story to mine," he said.
"It all starts right here; we're going to get fired up for this year's event. It's always a lot more fun when the entire community comes out."