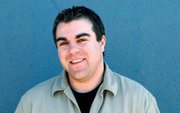 In the last days before the Yahoo Fantasy Basketball trade deadline, I pulled the trigger on a deal that was fit for a king.
King James, that is.
I proposed a trade to another owner for LeBron James to which he kindly counter-offered me another offer of LeBron James, Anderson Varejao and Steve Blake for Steve Nash, Stephen Jackson and Emeka Okafor.
Now at first, I thought it was a little lopsided. I mean, I'm giving up a quality veteran point guard in Nash, a solid all-around contributor in Jackson, and a double-double threat in Okafor.
Well, as it turns out, Nash still is dealing with back issues and Jackson will be sitting out some games from here on out at coach Nelson's discretion. On my side of the deal, King James is a proven commodity and will put up solid numbers every night, Anderson Varejao is contributing in Ben Wallace's absence, and Steve Blake will give me some three-pointers and assists.
In every trade, you want to believe you got the better of the deal, but in this case, I hope my opponent gets quality time out of Nash and Jackson considering their situations.
Because you can't trade any more this season, you're going to have to make all your transactions via the waiver wire.
I know some of you feel just as sad as I do looking at the waiver wires lately. It's not because there's nobody to pick up; it's because A-list players such as Al Jefferson, Amar'e Stoudemire, Michael Redd, Gilbert Arenas, and Elton Brand are out for the year with serious injuries.
Here are the players I'm looking at this week:
• Rasual Butler, shooting guard/small forward, New Orleans Hornets: Butler has been hot lately. In his past 10 games, he has scored 15 or more points in eight of those games. He'll get you good field-goal and free-throw percentages to go along with some quality points, threes, rebounds steals and blocks.
In the past week, he has averaged 2 three-pointers, 18 points, 6 rebounds, 1.3 steals and 0.7 blocks per game.
• Bobby Jackson, point guard, Sacramento Kings: He's back in a Kings uniform once again and making the most of his playing time with Beno Udrih out.
He has been contributing all across the board since being plugged into the starting lineup. In the past week, he's averaged 11 points, 6 rebounds, 5 assists and 2 steals per contest.
Well, the fantasy basketball regular season is winding down, and it's almost time for the playoffs, so next week I'll have a rundown of who you should pick up for your run to glory.