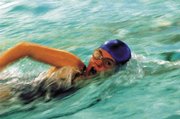 Laurel Tegtman remembers the first time she swam in a competitive meet.
It was four years ago.
At 8 - an age when many children are looking for the next something to become attached to - Laurel had decided she was going to become attached to swimming.
There she stood, at an outdoor pool in Steamboat Springs with snow falling around her . The icy, frigid waters seemed to call her name.
Little did she know that what she did next could have a major influence on her entire family.
She could put warm clothes on, get out of the cold weather and leave, like most of her competitors did.
Or she could stay, battle the elements and compete with every bit of courage she could muster. She stayed - and won - and the Tegtman family plan took a 180-degree turn.
"That first event she swam in, when it was snowing in Steamboat Springs, we knew," Steve Tegtman, Laurel's father said. "There was ice on the blocks, it was freezing cold, and she jumped right in and won all the events she swam in.
"I thought, 'I just taught this girl how to swim. This is pretty slick.'"
Slick enough for the Tegtmans to put Laurel's swimming at the top of the family's "to do" list.
"I've loved swimming ever since," Laurel said. "It means everything to me. It just doesn't feel right if I don't practice or I'm not in the water.
"It's my dream to be a great swimmer."
Joy and Steve Tegtman aren't ones to be squashing somebody's dreams - let alone their daughter's.
"Swimming is like a godsend for Laurel," Joy said. "It's what she loves. It's her passion. As a parent, how could you not support your kids?"
So last summer, when Laurel had outgrown the local youth swimming program, it was no big deal for the family to pay for a private swim coach.
It was no big deal for them to drive around the northwestern United States living out of motels,
And it's been no big deal hauling Laurel up to the high school pool to practice every week.
"I think the most important thing in life is supporting your kids," Steve said. "When you can see the smile on their faces after they've done something they love, all that travel, hard work and extra time you put in with them pays off. We do whatever is necessary for Laurel to follow her dreams."
What is proving to be necessary is a bigger pool for Laurel to swim in.
"We are looking into getting her involved in a much bigger program," Joy said. "It may be on the Front Range, or it may be in Laramie (Wyo.). We just want her to be able to have the best coaching and the best opportunity to excel, wherever that may be."
Laurel is familiar with Wyoming swimming.
Her private instructor, Stacey Zenker, is a University of Wyoming graduate who spent four years swimming as a Cowboy.
Laurel returned Sunday from the 2009 Wyoming Winter State Championships in Laramie, with two top-10 finishes under her cap.
"I just want to be part of a big team that's really competitive," Laurel said. "It's been fun here, but I'm ready for my next challenge."
And with those few words - and a few meet wins behind her - Steve and Joy Tegtman couldn't, and wouldn't, say no.
"We will back her 100 percent," Steve said. "When you realize you've got a swimmer, you'd understand. We'll do everything to keep her in the water."
Because in the water is where Laurel is proving to be most comfortable.